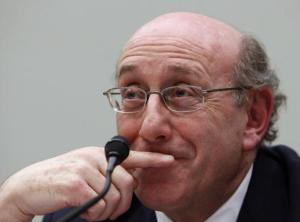 Despite less-than-stellar reviews of last night's speech, President Obama was still able to browbeat BP executives this morning into agreeing to a $20 billion escrow fund for areas affected by the oil spill.
To administer the fund, the White House chose the man who has become the go-to for thorny financial matters–and who Senator Chuck Schumer yesterday suggested might be good for the post–Ken Feinberg.
Feinberg oversaw the victims compensation fund after the September 11th attacks, and for the past year, has been carving up paychecks on Wall Street as the administration's Pay Czar.
"The victims can be confident that real help is on the way with someone as fair, diligent and sympathetic as Ken Feinberg running this fund," Schumer said in an emailed statement. "He did an amazingly good job in New York for the families of those lost on September 11 and received plaudits from all sides. I believe when Feinberg completes his mission here, the people in the Gulf will feel the same way."