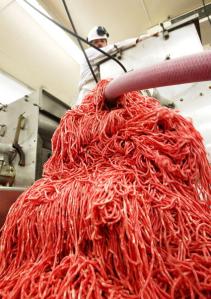 In April, Kirsten Gillibrand called on the USDA to declare six additional strains of e. coli bacteria as hazardous adulterants–which would require the meat industry to screen for them.
"In America, in 2010, it is unconscionable that food is still going straight to our kitchens, school cafeterias and restaurants without being properly tested to ensure its safety," she said in a press release. As it stands, the law only requires testing for one strand of the bacteria.
Last week, the meat industry responded. "We share Sen. Gillibrand's desire to eradicate pathogenic bacteria, but we don't believe that an act of Congress can make these bacteria disappear," wrote the AMI in a press release that questioned why she was challenging the meat industry, when the latest outbreak was tied to romaine lettuce.
The flap got some notice on sites like Food Poison Journal and Food Safety News (Commentary from the Nation's Preeminent Food Safety Defense Attorneys), and it comes as the freshman senator tries to define her image in advance of her first statewide race.
A spokesman for Ms. Gillibrand said the proposal was in keeping with her working mother agenda–since the beef goes into school lunches–but also indicated a broader ambition to overhaul antiquated food safety laws.