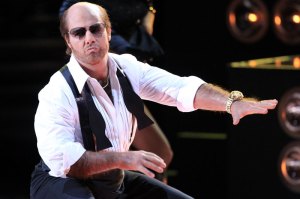 For the recent MTV Movie Awards, pop culture aficionados were delighted to see the resurrection of Les Grossman, the feral, vulgar movie producer from the Ben Stiller film Tropic Thunder, as the purported producer of this year's awards. It's worth remembering that when Thunder was released in 2008, the word was that Grossman was some kind of revenge caricature concocted by Mr. Stiller and Tom Cruise-who was brilliantly transformed into a bald, aging, Diet Coke-swilling mogul with oversize hands and hairy forearms-against Sumner Redstone, the billionaire who ultimately owns the Paramount movie studio. Mr. Redstone, as we all know, trashed and ostensibly booted Mr. Cruise publicly in The Wall Street Journal two years earlier from his long and profitable relationship with Paramount, citing Mr. Cruise's public championing of Scientology and seemingly over-the-top behavior on Oprah when he was promoting War of the Worlds. The Grossman character bears little literal resemblance to Mr. Redstone physically-though the latter is known to be irascible and profane-but it was not hard to infer that Mr. Cruise enjoyed a poke at the old man while cutting loose from his usual role as intense leading man.
Rather than chasing an elusive Oscar, the actor is showing he can lighten up and have a laugh.
At the same time, Mr. Cruise was in fact trying to be a Grossman-level movie mogul himself, having struck a deal to effectively run the United Artists movie label owned by MGM in tandem with his longtime producing partner, Paula Wagner.
Fast-forward two years: Ms. Wagner is long-gone from UA; Mr. Cruise has not much to show for his time as a suit; and the fate of Mr. Cruise's career remains one of the most-chattered-about subjects in town. His trajectory faltered at a time when the whole business changed and the notion of mega-stars who can open movies big (Tom Hanks, George Clooney, Will Smith, Leonardo DiCaprio and Denzel Washington among them) has been called into question. Not one for small measures, Mr. Cruise's own Web site crows that his movies "have earned in excess of six billion dollars worldwide-an incomparable achievement."
Now Mr. Cruise is attempting something of a career back flip. For years, comic actors have tried to evolve into serious thespians, something at which Tom Hanks succeeded handily but others, from Mike Myers to Jim Carrey, have largely faltered. As part of his purported comeback, Mr. Cruise is doing the opposite-rather than chasing an elusive Oscar, he's showing he can lighten up and have a laugh.
Like most of the characters he's played, he's going full throttle. A full-fledged Grossman feature is being developed by Paramount, which-such irony!-along with MTV is controlled by Mr. Redstone. (Both Mr. Cruise and Mr. Redstone maintain they are now "friends"-my quotes.) And Mr. Cruise and Mr. Stiller are developing a comedy in which they play the teen sleuths of The Hardy Boys as middle-aged brothers, called The Hardy Men-though word is that it's a long way from production.
More pressingly, June 23 is the release date for Knight and Day, the comedy-thriller distributed by Fox that stars Mr. Cruise and Cameron Diaz, in which he plays an intense and possibly insane secret agent. It's the first time Mr. Cruise has been in a marquee role since the middling Valkyrie, which was done at UA. And once again his role involves large helpings of winking self-caricature.
The inside word on how the film will fare at the box office is mixed-no one seems quite sure who Mr. Cruise's audience is anymore. What's clear, and actually kind of admirable, is that he is willing to do whatever it takes to try to find out.
rsiklos@observer.com