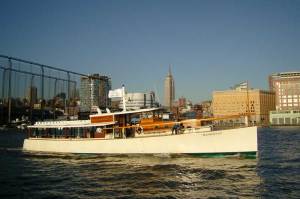 The future of New York builds on its past. Here, a look at some urban planning and architecture events that detail the city's grand history, seek to spiff up its current look or plot what it might be like in 2030.
New York City: The Future Metropolis
June 10, 6 p.m.
SolarOne Education Center
24-20 F.D.R. Drive, at 22nd Street
$10
How will the city be different in 2030? Flying cars? Robot butlers? Intelligible subway announcements? To answer these questions, SolarOne has corralled 13 speakers from different fields to tackle subjects like urban farming, biomimicry and nanotechnology-an outdoor meet-and-greet for the sci-fi set. The meeting structure will be Pecha Kucha, a vaguely exotic, achingly hip presentation format that limits the speaker to 20 slides, each shown for 20 seconds. We must save time-the future is coming!
Made in Midtown: The Garment District Today & Tomorrow
June 8, 6:30 p.m.
School of Visual Arts Theater
333 West 23rd Street
$15, reservations required
It may not be the nicest neighborhood in Manhattan, but there are people with affection for the garment district, and they include … Tim Gunn! For years, the city has been trying to turn that dilapidated manufacturing district into something pretty, or at least more profitable, and the prospect of change has fashion types in a cold sweat. The Municipal Art Society has organized a series of events to explore possibilities for development that won't upend Fashion Avenue, and have convinced the Project Runway mentor to moderate a discussion. When it comes to zoning disputes, "Make it work" is not bad advice.
The Fall of the House of Twain
June 22, 6:30 p.m.
The Salmagundi Club
47 Fifth Avenue
FREE, reservations required
The illustrious Salmagundi Club, founded in 1871, opens its doors to the public the evening of June 22 so that author Craig Ferhman may tell us of the last days of the so-called Mark Twain House, which stood at Fifth Avenue and Ninth Street from 1830 to 1954. Years ago, The New York Times led a short campaign to save the Greenwich Village dwelling, where Twain lived from 1904 to 1908-four long years for such an inveterate wanderer. Whereas Twain once had a billiards table installed in his bedroom, the site is now an unremarkable brick apartment house, a small tragedy. The blow will be softened by cocktails at the Salmagundi bar.
Automats, Taxi Dances, and Vaudeville book talk
June 22, 6:30 p.m.
Skyscraper Museum
39 Battery Place
FREE
It's easy to gripe about how gentrification ruined the old New York of 1985, but harking back to 1885 is harder. David Freeland discusses his 2009 book, which is, like the seminal tome Low Life, a tour of the city's forgotten nasty bits. He tells his story building by building, explaining a place like Washington Street, which was once upon a time Little Syria, through the two extant buildings: a tenement and a church that survived through luck. He takes aim at the city's Landmarks Preservation Commission, which he believes has never concerned itself too much with preserving the history of the working class-a shame, really, since a historic opera house is so much less fun than a historic brothel.
The AiA Guide to New York City Launch Party
June 2, 6 p.m.
The Center for Architecture
536 LaGuardia Place
Free, reservations required
Walk the town, guide in hand. The fifth edition of this American Institute of Architects book, the first one published since 1990, includes 3,000 pictures of the city's architectural landmarks and a shout-out to some of New York's newest buildings and structures. (Hello, High Line). A reception and remarks are scheduled for June 2 here. Later in the month, June 23, the Center opens an exhibit that predicts a rosy 2030-one where developing countries have learned from First World mistakes, and cities have become sustainable. Who would ever have expected George Jetson to live in Dar es Salaam?
Around Manhattan NYC Architecture Tour
Most Saturdays, 2:15 p.m.
Leaving from Chelsea Piers
22nd Street and West Side Highway
$75
Because walking tours are gauche, and the Circle Line is a favorite of boring people's boring parents, Sail NYC offers architecture cruises on board a painstakingly glamorous 1920s-style yacht, constructed 2005. See the skyline the way it was meant to be seen: from a boat, your cheeks stuffed squirrel-like with the complimentary crudite. Besides views of Gracie Mansion and the Palisades, the cruise offers rare insight into "West Side 'Starchitecture'" and, the literature promises, "allocations of low-income housing." Divine!
Romantic Rooftops Workshop
June 18, 6:30 p.m.
The Morgan Library and Museum
225 Madison Avenue
$15
To accompany its current exhibition on Romantic gardens-that would be the gardens of the Romantic period, not choice spots for hooking up-the Morgan Library hosts a workshop on how to turn one's own rooftop into a Keatsian hideaway. The exhibition was co-sponsored by the American Society of Landscape Architects, and local chapter president Tricia Martin will lead the workshop-instructing New Yorkers on the finer points of sustainable gardening. As a bonus, each attendee will be given materials to construct a model of their ideal rooftop garden.
wakers@observer.com