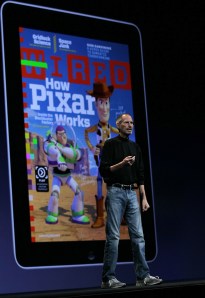 Adobe senior business development manager Gary Cossimini had 35 minutes yesterday to show off his company's New York Times reader at the Magazine Publishers of America technology conference, "The Technology of Magazine Content: From Augmented Reality to Tablets."
The room was peppered with representatives from magazines, media companies and ad agencies. Some sat in white folding chairs around tables near the stage. Others huddled in small groups next to exhibition tables covered in iPads and strange tablets at the back of the conference room on West 18th Street.
The crowd had convened to see the latest trends in digital publishing technology. Mr. Cossimini was talking fast.
"It has interactive features, basically, that are designed to engage readers through common types of interaction," he said, standing on stage. "It's going to blossom a lot of new opportunities for advertisers."
Mr. Cossimini was repeating the keywords of the day: interactive…features…engagement…advertisers.
Images of BMW 3-Series advertisements flashed on a screen behind him. Mr. Cossimini repeatedly returned to the phrase "geography of the mind" to describe the experience of reading a magazine or newspaper.
"I need a drink," said a man sitting near the front, shaking his head. He was a production manager at a small publishing company.
Nearby the photo director of National Geographic finished up an email on his iPad and pulled out a pen and notebook to jot a few notes about Mr. Cossimini's remarks. He watched. He listened. He pulled out his iPad again and read an article in the Harvard Business Review.
Earlier in the day, there was a panel on "augmented reality" technology, which involves holding a magazine up to a computer webcam.
"I don't know if any of you know the U.S. president of Burberry — I don't think she's known as a squealer — but when she saw the technology, she actually squealed," said Paul Robertson, who runs integrated marketing at InStyle.
Mr. Robertson explained the purpose of augmented reality.
"The idea is engaging, entertaining people — which InStyle is known for editorially — and then driving them to point of purchase," he said.
Mr. Robertson said that InStyle's marketing department introduced the use of augmented reality at the magazine.
"In an unusual turn of events, our editors followed suit," he said. "Typically we follow the editors in terms of things that we do and create. They were so taken by this technology and by the Tinkerbell effect that they made the December cover come to life with Taylor Swift."
Elsewhere, Esquire features editor Richard Dorment was taking a more low-key approach. "We're not making anyone do anything," he told The Observer. "We're just giving them the option."
Mr. Dorment spoke on a panel about something called QR code with David Edwards, a director at the digital ad agency R/GA.
QR code involves "two-dimensional barcodes" that readers can scan out of a magazine with their cell phones. Japanese magazines have been doing this for over a decade apparently. The idea is that if a reader sees a pair of khakis that he likes in a magazine, for example, he can scan the code and begin shopping for them on his phone.
The Observer asked Mr. Dorment what QR stood for.
"No idea," he said.
We wanted to know if it was hard to design a magazine around a bunch of barcodes.
"Design people never gripe!" said Mr. Dorment, smiling. "They're always pleased to do whatever."
Design man Scott Dadich, the creative director of Wired, spoke on the last panel of the day. This month his magazine's first iPad edition beat the print edition's average newsstand sales.
"The greatest lesson I think that we've learned over at Condé Nast is the power of design in this process," Mr. Dadich said on stage.
He showed off different fonts that the magazine was using for its iPad edition and talked about "design fidelity."
After the panel, The Observer asked Mr. Dadich if he was worried about advertising and editorial commingling.
"I think because it's such an early time frame that there is going to be a natural back and forth, that we're going to spur each other on, the ad side and the edit side," Mr. Dadich said. "There is still a clear distinction between church and state, there is no pay to play, and it's entirely a separate organization as it is in print."
Mr. Dadich seemed very confident about all of this. Was he scared to be designing magazines in largely uncharted territory?
"A little bit," he said. "But as David said today, there aren't rules yet. We're trying to fail quickly and pick ourselves up and learn from our mistakes and, as quickly as possible, get a product that our readers are in love with and that we enjoy making and that our advertising partners feel is helpful to them as well."