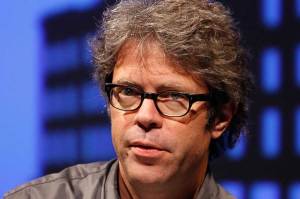 Anyone who identifies the literature business with the publishing industry would have quickly learned otherwise by walking a few hundred yards of Book Expo America at the Javits Center last week. In adorning their booths, the publishers of America reach quickly for the lowest-common denominator: The Clean-Eat Diet, Harlequin Romances, John Grisham, self-help, Sarah Palin, cookbooks, textbooks, coffee-table books, travel guides, Oliver North, Ralph Reed and Chuck Norris. The convention's keynote speaker was Barbra Streisand, hawking her new opus, My Passion for Design. On Wednesday, the longest line at the autograph stands was for Cecily Von Ziegesar, founding scribe of the Gossip Girl franchise. On Thursday, an even longer line had formed for someone named Stein. "Gertrude?" asked a bystander. "No, R.L." Stine, that is. A book is a book is a book.
Literary authors were not entirely absent. The Transom heard of a young author releasing a first fiction collection last week who believed his debut had been overshadowed by the simultaneous reissue of the Rolling Stones' Exile on Main Street. Who could blame him? The back cover of the BEA program was emblazoned with the cover of the forthcoming memoir Life, by Keith Richards. In a way, the writer's predicament recalled that of Jonathan Franzen, who published The Corrections just 10 days before 9/11.
The most banal corner of the Javits was to the southeast, the designated Digital Book Zone. Here the Transom encountered a representative of Equire Tech, a typesetting firm based in Pondicherry, India, that charges around $600 to compose a 500-page book, corrections included; by any industry standard this is cheap, and it makes sense when you consider that Equire's 70 employees make about $400 a month each. Down the line was Copia, a Web site spun off a family electronics firm that brands itself as "Amazon meets Facebook"-retail plus social networking. Around the corner was iScroll, a technology that combines ebooks with audio books, such that you can read a book on a screen and have it read to you through headphones at the same time; the effect on children, your correspondent was told, is a quantifiable improvement in reading comprehension.
Far across the Javits floor, another contender in the ebook race, Google, had erected a lavish, multicolored mini-pavilion directly across from a man clad in shorts selling half-priced subscriptions to The New York Times and serving as a cheerful metaphor for the death of print. Many times the Transom approached the Google booth, and many times he was told to come back shortly to speak to Google's communications person, who eventually told us he could not speak on the record.
He, Sean Carlson, did issue a statement, which read, in part: "We want to build and support a digital book ecosystem to allow our partner publishers to make their books available for purchase from any web-enabled device."
One thing children learn in school-or on their iScrolls-about ecosystems is that they sometimes creep up on and overwhelm neighboring ecosystems. And this was an anxiety in the heavily conditioned air at BEA.
"Is epub going to become the dominant format?" asked an attendee of Google's Thursday morning talk.
"I don't know," Google representative Aimee Hong began her long and somewhat evasive reply, which concluded, "I do think ebooks are going to get more dominant."