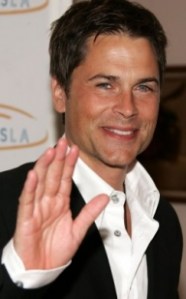 Press release just came in from Henry Holt and Company, the Macmillan imprint, saying that they've signed actor Rob Lowe to write a memoir. Great! Except, wait. Hasn't this happened before?
As The Observer reported in February 2008, Mr. Lowe got a million-dollar book deal with Jonathan Karp at Twelve during the writer's strike, only to bail on the deal when he started getting work again. Mr. Lowe's literary agent at the time was Richard Abate, then the head of the book department of Endeavor Entertainment, who explained the situation this way at the time: "He is just booked for at least the next year straight. … We're going to come back to Karp when he's done shooting all these things, if there's time then to do it. He doesn't want to commit to it because he doesn't know what he's going to be offered between now and then." Mr. Abate, now an agent with 3Arts, also said, "If Rob does the book, we're gonna do it with Jon."
Because of the merger of Endeavor and the William Morris Agency, Mr. Lowe is now represented by WME's Jennifer Rudolph Welsh, who evidently thought Twelve—without a publisher for the time being, as Mr. Karp has moved to Simon & Schuster—was no longer the right home for Mr. Lowe's book. According to the press release, Holt publisher Steve Rubin bought the book in "a confidential submission." The book is called Stories I Only Tell My Friends and it will be published May 2011. Mr. Lowe will be writing the book himself instead of doing the normal thing and hiring a ghostwriter.