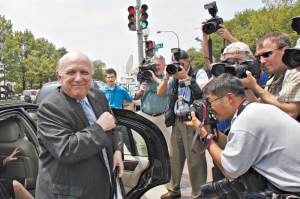 When Robin Bierstedt joined the Time Inc. legal department in 1983, there were 20 active libel cases pending against the company. In her 27-year career, she has taken on dozens of spurned public figures, officials and organizations (hello, Church of Scientology!), all of whom had a serious legal beef with Time Inc.
Later this week, Ms. Bierstedt will retire, and she put it plainly when asked why she was leaving. "No more lawsuits," she said.
For the first time in her nearly three decades at the world's largest magazine company, there are no active libel suits against Time Inc. In fact, there hasn't been an active libel suit in 11 months.
And she isn't alone. "It's never been lower," said George Freeman, the New York Times Company's vice president and assistant general counsel, on the number of libel suits his company is facing.
Financially battered news organizations may be more willing to make changes when there is an angry phone called placed from a lawyer before a story hits. Who wants to spend all that money when the news organization is barely scraping by?
He said that for the first time in his 29 years with the Times Company-which owns The Times, The Boston Globe and many regional papers-there are no active domestic libel suits at the moment. It's been that way for about a year, a reversal from years past, when the Times Company would have about 10 to 15 cases a year.
In a trend media lawyers around the country are just beginning to understand, libel cases have diminished at a fairly steady rate the last few years. Libel suits appear to be going out of fashion.
"The number is down significantly compared to a dozen years ago," said Stuart Karle, the former news lawyer for The Wall Street Journal who now teaches at N.Y.U. Law School and at the Columbia Journalism School.
"It's definitely a trend we've noticed," said Ms. Bierstedt.
"I don't know of many litigators, whether they represent the defendants or plaintiffs, who are doing a lot in this area," said Floyd Abrams, the legendary media counsel.
Media lawyers have a few theories to explain the rapid decline. A track record of limited success for plaintiffs discourages people from filing such cases-clearly a good for media organizations. In addition, the Web has allowed for quick corrections, heading lawsuits off before they are even filed. Some individuals now even post their own responses on the Web, allowing them to vent steam before heading to court.
On the darker side, some media pros wonder whether the declining finances of media companies may be limiting the type of journalism that used to anger subjects and produce libel suits.
A quick refresher course may be in order. Ever since the Supreme Court ruled on The New York Times v. Sullivan in 1964, the actual-malice doctrine was established for libel cases, meaning that if a public figure or official wanted to pursue a libel case, a publisher or reporter had to write a story knowing that it was false, or having a "reckless disregard" for the truth.
While that case clearly benefited news organizations, it hasn't stopped people for decades from suing. Until now.
"The number of libel cases going to trial has dropped to the point where it's not worth doing the survey on an annual basis," said Sandy Baron, the executive director of the Media Law Resource Center.
Ms. Baron was speaking about the annual-and now biannual-survey of libel and privacy trials that her firm rounds up and produces into a study. In the most recent study, the Media Law Resource Center found that libel trials in the 2000s were down more than 50 percent from the 1980s. In the 1980s, the center found 266 trials; in the '90s, that number dropped to 192; in the past decade it dropped to 124. In 2009, only nine surfaced.
Insurance firms have noticed the change as well. "On the media liability insurance side, we are not seeing as many libel suits filed against insureds, against our media policyholders," said Michelle Worrall Tilton, the media liability program manager for OneBeacon Professional Insurance.
In terms of the causes of the change in libel, look to the Web.
"There's so much more out there," said Ms. Bierstedt. "People will feel less offended by that one newspaper or magazine sitting around."
"There's a sense that it gets washed away," said Mr. Karle.