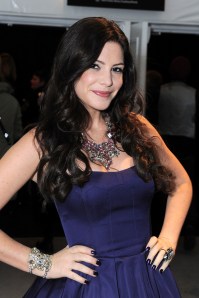 Shortly after being inducted into Gawker TV's Fameball Hall of Fame at last night's Webutante Ball, Internet personality Arthur Kade relished his achievement. On the Internet.
"Omg!!!!!!! I just won prince of the ball!!!!!!!" he posted on his Twitter account.
The 32-year-old blogger/actor/writer hybrid took to the dance floor at Marquee with his princess Kari Ferrell for a suggestive round of tug-of-war with a purple boa. His fellow nominees for the crown included NonSociety founder Julia Allison.
"I've never read her blog, but I'm ultra-ultra controversial, so she couldn't touch what I'm doing," he said of Ms. Allison, standing near an ice sculpture in the shape of a Dentyne gum packet. "I'm the first Internet reality show that's ever been."
Ms. Allison, wearing a powder blue vintage prom dress, a tiara, and a thick layer of Ranjana Khan jewels, approached Mr. Kade. She recently returned from a several-week stay at a yoga ashram upstate.
"I really want to go back," she said. "I feel like I found my balance at the ashram, and I lost it here. Part of me wants to go all J.D. Salinger."
While we discussed the perils of the New York tech-media scene, Mr. Kade took another opportunity to update his 810 Twitter followers. He snapped a photo of himself with Allison in the background with the caption: "The new york observer interviewing me and julia allison."
Fameball nominees mingled freely with the founders and techies behind new startups (like men's outfitter V Bespoke) and established megabrands (like Groupon and Tumblr).
"We don't have the slightest idea of how Tumblr should be used," Tumblr founder David Karp said of mainstream print outlets like Newsweek and The New Yorker making forays with the blogging platform. "The value in Tumblr to them is something we never realized in building it."
The party was designed by Gawker TV editor Richard Blakeley to be a sort of prom for Internet Week while raising money for City Harvest. And, in true prom fashion, balloons covered the dance floor where groups of people in thick-rimmed glasses danced (ironically or otherwise) to house remixes of Jimmy Eat World and Lady Gaga. A couple smooched outside the bathroom.
"For one night, people put their differences aside for charity," Mr. Blakeley said. "Yeah, some people hate each other on the Internet. It's a lot harder to hate people in real life."