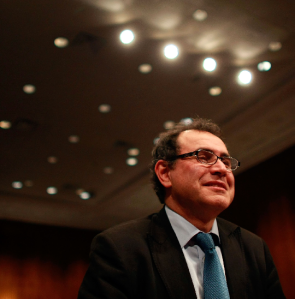 The last time the stock market had a day this bad, the headline on Business Insider's frong page had six exclamation points. This afternoon's lead story is nearly as awesome: it's called "MARKETS RIPPED APART" and features a picture of a wolf with its mouth open. Unrelatedly, the site also put up a nice first version of its list of the best business pundits. It's an interesting read, although B.I. chief Henry Blodget wrote in his introduction that it's only a "quick start." He wants his readers to offer up the pundits (not reporters) whose "byline or headshot gets you really psyched to read/listen."
So far, the Times is leading the pack with eight entries (Joe Nocera, Gretchen Morgenson, Floyd Norris, Andrew Ross Sorkin, Thomas Friedman, Paul Krugman, David Carr, and Brian Stelter), and following with three each are Bloomberg (Jonathan Weil, Tom Keene, Michael Lewis), the Financial Times (Martin Wolf, John Gapper, Gideon Rachman) and the Wall Street Journal (Holman Jenkins, Alan Murray, Evan Newmark).
CNBC's John Carney, who was recently fired by Mr. Blodget, made the list, and so did current B.I. writer Joe Weisenthal, the author of the site's classic exclamation point post.
And now for the double winners: TheStreet.com's Jim Cramer and Doug Kass, Northern Trust's Paul Kasriel and Asha Bangalore, plus PIMCO's Bill Gross and Mohammed El Erian.
The Wrap's Sharon Waxman and Deadline.com's Nikke Finke will each be sorry to hear that the other made the list. It would be great if the same thing were true of Newser's Michael Wolff and billionaire blogger Mark Cuban, only because that would make for a lovely feud.