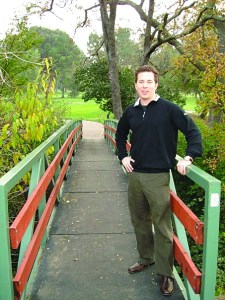 On Wednesday, June 2, the S.E.C. is convening executives and academics at its Washington headquarters for a panel on high-frequency trading. The first two questions on the agenda: What it is and is it bad?
Rapid-fire computerized selling and buying is still so delightfully opaque that no one seems to know exactly how it works on a normal day, when it can account for three-quarters of the trades in this country, let alone its roll in the creepy May 6 stock market crash, when the Dow fell more within one day than it ever had in history.
The roundtable will be different than an event last week called "Exploiting the Latest Opportunities in High Frequency Trading," an industry get-together in Reuters' Times Square high-rise. Coldplay's "Clocks" played. "Lots of testosterone running through this place," said a futures trader named John Netto. The first buttons of his shirt were undone, showing chest hair and a stone necklace. "It represents abundance and a sense of spirituality and strength. It came from a group of Tibetan monks, and I wear it every day. And wear it very close to me. I believe it brings me powers and good fortune."
The first buttons of his shirt were undone, showing chest hair and a stone necklace. 'It represents abundance and a sense of spirituality and strength,' John Netto says.
The next day, Mr. Netto could be seen 11 blocks up, at the Sheraton, for an afternoon panel and then a roundtable. It was the North American Financial Information Summit, where the talks had titles like "Money for Nothing" and "Speed Under the 'Scope." A day later, one block down, he was at the Flatotel Hotel, sitting on a high-frequency trading panel sponsored by the group Golden Networking. Next week, he'll headline a related industry happy hour at Johnny Utah's, over complimentary appetizers.
It can be good to follow people like Mr. Netto around town to hear what they have to say about the world, because, to very different degrees, they seem to be quietly controlling it. The 35-year-old, who runs a small shop called M3 Capital, is not urbane or prim: His Facebook page lists sports handicapping and attending Las Vegas shows as interests, and it misquotes Aristotle. But the world of high-frequency trading is filled with outsiders, some in suburban Kansas City, some above a Restoration Hardware on the Jersey Shore and some behind a second-floor door in Chicago, where one such firm is said to trade 15 percent of the volume of the country's stocks.
"I LOVE THIS JOB," Mr. Netto said last Tuesday in his subleased office space on the 40th floor of 444 Madison, the Burberry building. He has eight computer screens on his desk, a laptop and another computer on the floor, which is next to one wrapped in pink plastic. Mr. Netto is a futures trader, but his firm is also what's known as an introducing brokerage-a middleman between traders and the firms that handle the actual deals.
He is a gambler. "I placed my first sports bet when I was 8 years of age," he said. "Always had a penchant for taking on risk." When he was about 15, he said, he started passing out parlay cards, and spent the next three years running a minor bookmaking circle at his high school. "I didn't have much self-esteem as a kid, despite the love my parents gave me. I struggled with that, and making a market and gaining popularity by being a bookie was something that was sort of a refuge." He gave it up on his 18th birthday, just after Thanksgiving weekend of 1992, when he managed to wipe out nearly everything he had made in three years.
In 2003 he started M3, which he said he named after the idea of money cubed: "M cubed is a combination of strategy, structure and people." Then he paused, and admitted he'd named the company after his car, an Imola red BMW M3 with black leather. In 2004, he bought a place in Las Vegas, where he likes to play Omaha Hi-Lo and no-limit Texas hold 'em.
Mr. Netto talks about high-frequency trading in long, loving, unpunctuated torrents, which include extended similes describing why automatic trading is unglamorous but essential. "Nature has a way of being efficient; nothing goes to waste, O.K.? In other words, everything has a purpose, even things that intuitively you're like, 'I hate those things, I hate cockroaches, I hate fleas,' or whatever. Well, they have some of the glorious aspects of nature. They're not a lion or a dragon or whatever. But they still have a very vital role in the efficiency in nature."
But if one of the great assets of high-frequency trading is just how much of it there is-it brings more liquidity to the stock market than anything else-that may have been its biggest problem on May 6. Some high-frequency trading shops, which are not required by law to keep buying and selling if they don't want to, shut down entirely amid the chaos to avoid more losses, helping to fuel the collapse. "I think it's a good sign that people are looking to manage risk," he said. "If you have no contractual obligation to make a market, and something happens, as a trader, you step away until things trade themselves out."
Besides, he said, so far the S.E.C. has said it hasn't found any specific culprit. One leading theory is that some sort of rumble in the market for what's known as E-Mini S&P 500 futures helped pull down everything else. Mr. Netto, sitting in his office next to a 29-year-old Warsaw-born blonde named Anna, who handles his press (and who is also his girlfriend), said he was an early proponent of the theory. "You just know these markets, you just internalize these markets: How do I know that guy over there is sitting on pocket aces? Because he's sweating; and the way he held his chips; and the way he check-raised me. You know what I mean? All of a sudden, on the board, on the river, he check-raised me, and the board is like ace, three, three, seven, nine? And this guy's played tight all night long and now all of a sudden he's all in on the river and he check-raised me. What do you think he has?"
Even if high-frequency trading turns out to have been a villain on May 6, things happen and the industry rolls on. In late January, for example, Mr. Netto was fined $15,000 by the National Futures Association for essentially doing business with a man who had been barred from NFA membership, although he neither admitted nor denied the charge. "Some oversight happens," he said. "This is a non-event."
His forecast is positive. "I think the next few years we'll see amazing opportunity."
mabelson@observer.com
Additional reporting by Amanda Cormier.