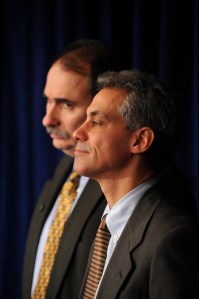 Politico reported in May on a bipartisan influence group gaining prominence on the Hill — the iPad caucus, or congressman and senators who have begun to use the tablet computer for work.
Now the group is gaining allies in other Washington power centers (not to mention Gracie Mansion).
Today the Washington Post reports that top players in the White House — Rahm Emanuel, David Axelrod and Larry Summers among them — have also begun to rely on the device.
The Scrabble application is especially popular among the White House set. Mr. Summers reportedly tries to hide his iPad under tables during meetings. Are the two related?
The Justice Department is not above the trend either. Mike Allen reported on Saturday that Attorney General Eric Holder and his national security adviser Amy Jeffress both have tablets.
And like most caucuses in Washington, there is infighting.
Mr. Allen reported that Mr. Holder and Ms. Jeffress were among the first two people in DC with the 3G version of the iPad. Arizona Rep. Jeff Flake claims he got one on the very first day it was available.