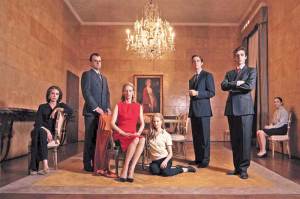 Tilda Swinton has played so many men and androgynous freaks that it's a treat to see her emerge from her self-effacing cocoon as a creature of ravishing feminine allure in a lush Italian saga of love, liberation and changing social upheaval called I Am Love. In glamorous clothes, makeup and hair styles, she looks like she's having the time of her life. Elegantly directed and exquisitely photographed, the movie is a triumph, and so is she.
The star, who also co-produced and speaks fluent Italian throughout, plays Emma Recchi, the Russian-born wife of a rich industrial textile manufacturer in Milan. She and her husband, Tancredi, have three nearly grown children and a villa the size of the Roman Colosseum. From the opening scene, an elegantly set dinner party photographed under the chandeliers in mirrors for the grandfather's birthday, it is clear that times are changing. The grandfather who created the Recchi empire announces his retirement and names as his successors his son Tancredi and his handsome grandson Edo, who has no interest in the business. Edo prefers to open a restaurant with his best friend, an immigrant chef named Antonio. Daughter Betta is embarking on a lesbian affair, and the other son, Gianluca, has already left the nest. The movie is as much about food as melodrama, and every high point relates to an epic meal, with elaborate discussions about marinated egg yolk, pea cream and zucchini flowers, prawns with risotto in sweet and sour sauce and mixed fish with crunchy vegetables; it will leave you drooling. The actors are all marvelous, although I have one caveat: Who came up with the idea of casting gorgeous Marisa Berenson, too young and too feisty for the role, as the grandmother? When the bored and wasted Emma's sensual attraction to her son's best friend turns into a full-blown sexual passion, the slow-moving story shifts gears, the tempo builds and tragedy is inevitable.
Since the sets are awesome, the lifestyle sumptuous and the story involves a family that's built its fortunes in post-Fascist Italy, comparisons to Luchino Visconti's The Damned are inevitable-plus, like Visconti, I Am Love fuses the past with the changing future in a marvelous traditional narrative without a shred of the sloppy trends of contemporary filmmaking. Because of its internecine family dramas played out against lavish décors, references on the festival circuit to other films by the great Visconti are also understandable, but I Am Love lacks the substance of such Visconti sagas as The Leopard and Conversation Piece, and none of the decadence and grand opera perfected in The Damned. No, director Luca Guadagnino is very much an artist with his own unique vision, and in Tilda Swinton he has found the period muse any visionary would covet. In the end, when she says to her family, "You no longer know who I am," she is more like Ibsen's Nora, slamming the final door on a cold former life. It's clear that not only has Emma changed, but an era of feminine repression is changing, too.
rreed@observer.com
I Am Love
Running time 120 minutes
Written and directed by Luca Guadagnino
Starring Tilda Swinton, Flavio Parenti, Edoardo Gabbriellini, Alba Rohrwacher

4 Eyeballs out of 4