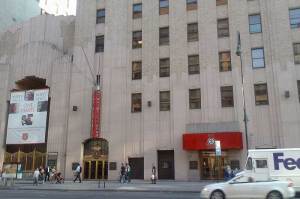 128 West 14th Street
Leased in May 1873 for $8,000 annually (in 1873 dollars)
The free-standing private home with a mansard roof was completed in 1854. Built by James Renwick, who also designed the Smithsonian Institution in Washington, it was commissioned by Mrs. Nicholas Cruger to house her private art collection. The mansion offered five times the space of the Met's previous home at 681 Fifth. "Except for a structure built for the purpose, nothing could have better served the Museum's immediate needs," wrote Morrison Heckscher, chairman of the Met's American Wing, in a 1995 article in the Metroplitan Museum Bulletin.
1000 Fifth Avenue
Donated by city and state; moved in March and April 1879
The museum's current home stretches 1,000 feet between 80th and 84th streets. Workers broke ground on the site in 1874, according to Mr. Heckscher, and the building we know today is the result of over a century of design and construction. The museum's two original architects, Calvert Vaux and Jacob Wrey Mould, outlined a plan that favored simplicity, rationality and plenty of unimpeded, natural light. Little of the High Gothic style that Vaux employed remains, however, and the Beaux-Arts facade and grand entrance hall were designed by a museum trustee, Richard Morris Hunt. The location was chosen by the trustees, in collaboration with the commissioners of Central Park.