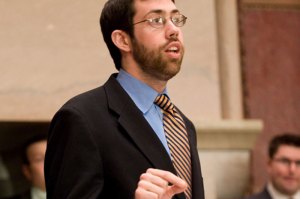 Wednesday, June 16, was a typical day in Albany. After arguing about ancient gladiators, senators approved a bill legalizing mixed martial arts in New York; the comptroller promoted a Web video scolding lawmakers for wasting time on the delayed state budget; and gubernatorial candidate Carl Paladino asked supporters to vote on names-Give Me Liberty, Joe Citizen, LiberTea-for his new party.
But then, quietly, something else happened. By a vote of 60 to 1, the State Senate passed a bill that if signed into law will create an entirely new species of company in New York. Sponsored by a state senator named Daniel Squadron, a 30-year-old who beat 30-year incumbent Marty Connor last election, bill No. S7855 makes room in state corporate law for a legal middle ground between nonprofits and ordinary businesses.
It is what's known as a benefit corporation, which, as an idea, has been around for years. But state laws allowing them to be established have been passed only in Maryland and Vermont, and so recently that they haven't yet gone into effect.
"I'm both a member of the New York State Senate and an eternal optimist," a bearded and bespectacled Mr. Squadron said this week. "You have entrepreneurs and investors who want to do good, but also want to do it in the context of all the capital and all the resources in the for-profit world." But the corporate duty to develop shareholder value, he said, doesn't leave room to pay serious attention to missions.
"From a left-wing perspective, you can say it would bring to New York the kind of corporations that care about the environment or reach out to underserved communities," said Andrew Greenblatt, an investor and N.Y.U. public administration professor who worked on the bill. "From a right-wing perspective, what this bill does is, it lessens the regulatory grip that New York State has over corporate purpose by saying you can now create corporations that have missions beyond just profit maximization."
Mr. Greenblatt used to work for Ben Cohen of Ben & Jerry's, the ice cream company that was taken over a decade ago by Unilever. Both founders have blamed the sale on directors who felt they couldn't turn the conglomerate away. "Right now, the law compels companies to be guided solely and exclusively by company profit. And companies can be sued for veering from that," said Jamie Raskin, the Maryland state senator who sponsored the bill there, and a professor of constitutional law at American University. "We're living in a time where the crises are piling up all around us from corporations that ignore the public interest. We said that we need a new business model that companies can opt for."
According to the New York bill, which could potentially be voted on by the Assembly before its summer break, a benefit corporation's leaders will be allowed-and required-to consider stockholders, employees, suppliers' workforce, customers, communities and the environment when making decisions. The idea, almost quaintly, is for them to make a difference while making money.