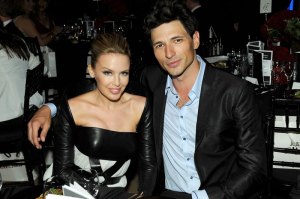 You know those bulging, upward-thrusting codpieces that you occasionally encounter in Renaissance portraiture? Well, this was clearly the original source material for Thom Browne's black leather thingy, worn by a model during the fashion show at the AmFar Inspiration Awards at the New York Public Library on Thursday, June 3. Thom's penile missile really wowed the front row, Ricky Martin, Cyndi Lauper, Lance Bass, Kylie Minogue and Jean Paul Gaultier notwithstanding.
The younger attendees seemed quite bewildered by Thom's explosive bulge. The reason for this is clear. Young people today are breathtakingly stupid. Let me rephrase that so it doesn't sound quite so horrid. Young people today are not stupid, they are bright and ambitious, but they are horribly cursed with a breathtakingly narrow frame of reference and would therefore have no knowledge of Thom's original source of inspiration and would therefore just think that TB was a crude bugger whose oeuvre was infused with horrifically priapic obsessions. In other words, young people today might be bright and ambitious but they would not know a Renaissance codpiece if it slapped them upside the head. If you are cruising Zappos all day, then you are unlikely to stumble upon any mind-expanding sites about the glories and eccentricities of 16th-century male costume.
Last week I watched a young colleague draw a blank at the words 'Jackie Onassis.'
I can support this assertion with personal observations: Last week I watched a young colleague draw a blank at the words "Jackie Onassis." I had barely recovered from the aneurysm-inducing shock of this incident when, one day later, another bright and ambitious young person glazed over-like a cat taking a poo-when I described a handbag as "very Margaret Thatcher."
Speaking of stupidity: I myself am extremely stupid. In 1963, I failed the legendary British 11-plus examination and was sent to a school with a more vocational bent. I admit it. I own it. I am shocked that, despite my documented stupidity, event organizers continue to enlist my help with live auctions. Me and my stupidity never fail to bollocks up the bids. In the past, I have cock'd things up so badly that organizers were obliged to sell their objets d'art and Tahitian romantic getaways for less than the final bid.
I am so stupid that I always forget that my primary role is to increase the desirability of the items on the block, as opposed to taking the piss out of them and poking fun at the prepared catalog verbiage. At Thursday night's live auction-hosting again!-I got totally sidetracked when a cruise line promised "unlimited shore excursions." For some reason this struck me as insanely amusing and I just could not let it go: "Come on, girls! Who doesn't love a good shore excursion?" etc.
And then there was the exquisitely thin Piaget watch, so thin, in fact, that the folks at Piaget mentioned it 16 times in their cue-card notes, causing me to speculate, unnecessarily and thoughtlessly, that their magical timepiece was suffering from a eating disorder.
I also have a tendency to become inappropriately stroppy when people stop paying attention, which they invariably do during a live auction. A couple of years back, I railed from the podium at Lindsay Lohan during a Rape Treatment Center event auction in L.A. because she kept yakking to stylist Rachel Zoe during my spiel. Afterward, she asked me why I had been mean to her. ""Cos I'm a mean girl," I replied, nudging and winking.
Lindsay Lohan should take lessons from Kylie Minogue. Gorgeous and popular and always with a great-looking bloke on her arm, Kylie has the magic brew in her purse. At the AmFar event, she was accompanied by her model boyfriend, Andres what's-his-name, who is even better-looking than her last squeeze, the actor Olivier what's-his-name.
The diminutive Australian glamour puss and I greeted each other like long-lost diminutive glamour pusses. The reason for this is simple: We are, in a manner of speaking, related. She and her sister Dannii reunited to sing their version of Abba's "Winner Takes All" on the soundtrack of Beautiful People, which, as you all know, thanks to my relentlessly self-serving plugging, is the hit BBC show based on my eponymous autobio. More unabashed plugging: Series two of Beautiful People will unfurl on Logo this coming Saturday. Minogue fans take note: Dannii appears in episode five. Plug over.
Going … going … gone!
editorial@observer.com