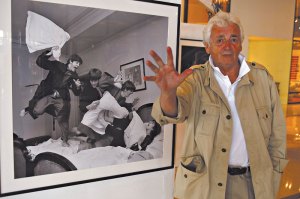 "The only real thing is paparazzi," photographer Harry Benson told The Observer last week in his thick Scottish accent. We were at Monkey Bar for the after-party of the New York premiere of Smash His Camera, a documentary about Ron Galella, Mr. Benson's fellow shutterbug and perhaps the most famous of all paparazzi. "There's no photojournalism any more. It's all posed, all fake," said Mr. Benson, famed photographer of the Beatles. "The only real legitimate photography going on is by paparazzi."
'When I hear the word "art," I go for my revolver,' said paparazzi forerunner Harry Benson. 'It's a shit word.'
A rare breed, the paparazzi. Tazio Secchiaroli zoomed around Rome on his Vespa, crowding his famous subjects' personal space, before racing off to surprise Sophia Loren or snap a drunken leading man. Mr. Benson talked his way into the homes of presidents, the funerals of public leaders, the hotel rooms of rock stars. Mr. Galella hid in bushes with forged press credentials waiting for The Shot. "Paparazzi" comes from the name of a pesky photographer in Fellini's La Dolce Vita, based on Secchiaroli.
It's also Italian for "buzzing insect."
They've been villains for decades, but first-wave paparazzi like Mr. Galella and Mr. Benson and their contemporaries are now becoming famous-and respected as photographers. In just the past two years, and almost out of nowhere, major galleries in London, New York, Berlin and Los Angeles have staged exhibitions of paparazzi photos, singling out a few "insects" from the swarm as artists. Mr. Galella's photographs are in the collection of the Museum of Modern Art, where the HBO documentary about his career premiered. Mr. Benson has had solo exhibitions at the National Portrait Gallery and British Museum. "A 2008 exhibition in West Hollywood even touted paparazzi images as 'fine art.'"
It's not just that paparazzi are outlasting their artistic critics; Curators, dealers and photographers themselves said the changing face of American celebrity-and the country's incessantly growing fascination with it-has made paparazzi photography the dominant style of this new century. If so, Mr. Galella and Mr. Benson are the medium's Da Vinci and Michelangelo.
"He transformed the idea of how we could represent famous people," said Brian Wallis, the chief curator of the International Center of Photography, about Mr. Galella's work. "On a purely aesthetic level [he brought] amateur photography, or the snapshot, into the realm of photojournalism."
"I did it for the art," Mr. Galella told The Observer of his career. He wore his camera around his neck, and on the strap were two buttons featuring pictures Mr. Galella took of Jacqueline Kennedy Onassis, his most famous subject. The two engaged in a legal battle in the '70s over his right to shoot versus Onassis' right to privacy. In 1975, the court ordered Mr. Galella to not come within 25 feet of her. The text of one of the buttons on his camera reads her quote: "I thought you were in jail."
The art world long had a similar disdain for paparazzi and their pictures. "When we started, no one showed this work, and much of it was scorned," said Takouhy Wise, the director of Staley-Wise gallery, which has represented Mr. Benson for a decade. (Other spaces that have exhibited paparazzi work include The Robert Miller Gallery, Paul Kasmin, Savile Row's James Hyman and the Helmut Newton Foundation.)
"I think the negative aspect of the paparazzi today is there's such a pursuit of people who have negative ways of living. The drugs and abuse. Which is a symptom of our times. And they're recording it." She added: "Once we have enough distance, it probably will define our decade."
The paparazzi snapshot, according to some curators, is the new century's dominant image-the one that circulates the Internet like a virus, the one produced not only by the phalanx of cameramen huddled outside a nightclub, but also by anonymous teenagers with iPhones. Everyone is an artist. Everyone is famous. Paparazzi have made it so.