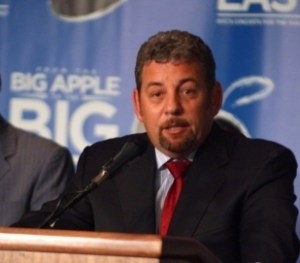 James Dolan — the singer-songwriter, not the vengeful media owner — is profiled in The New York Times Style section today.
"I draw pictures in my mind," Mr. Dolan told The Times about his approach to songwriting.
But can you separate the man from his music or, for that matter, the zen blues singer from the man who recently got $1 million worth of ads pulled from The Voice after a joke at his expense?
We submit that you cannot!
In music, like in the media business, Mr. Dolan does not forget personal attacks.
His song, "Rise With the Tide," Mr. Dolan recalled, was inspired by an article from the mid-2000s when a writer called him "a member of the lucky sperm club," a cutting remark meant to imply he owed his status to his father's success. (His memory is mostly right: it was The New York Post that described him in 2002 as one of "the lucky gene club.")
And in music, Mr. Dolan is not above calling in personal favors.
Now, with a professional backup ensemble and the indie debut of his third album this month (meaning, he paid for it himself), Mr. Dolan is playing warm-up for the Eagles and the Dixie Chicks on an eight-city concert sweep. It is not easy to score a spot on such a tour. But Mr. Dolan's good friend is Irving Azoff, the concert promoter and longtime music manager, who helped put the Eagles show together.
Another thing we learned from The Times this morning about Mr. Dolan — besides that he has "slim hips" — is that he has sort of a double standard about ad hominem criticism. The article reports that he never censors his reporters and only asks that they avoid personal attacks on individuals. That said, Mr. Dolan seems especially proud of his song about Eliot Spitzer, "Fall From Grace."