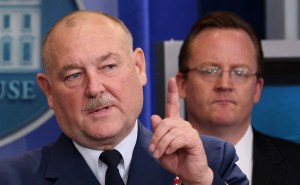 The Washington Examiner sent reporters into the Capitol, the White House and the Pentagon ("the most powerful hotspots") armed with an iPhone running Grindr, an application that allows gay men to find other gays nearby using their smartphones.
"We've entered the White House briefing room and Grindr has gone from just 17 men out on the lawn to a slew of men. You can literally scroll through and load more guys," said Examiner reporter Tara Palmeri.
Literally, a whole slew of 'em!
"It seems like inside the White House might be a good place to connect," she said.
Ms. Palmeri also found more gays on the Senate side of the Capitol than the House side.
"They're not asking. They're not telling, some of them. Instead they're connecting on a site called Grindr through the iPhone application," said Ms. Palmeri.
(h/t Gawker)