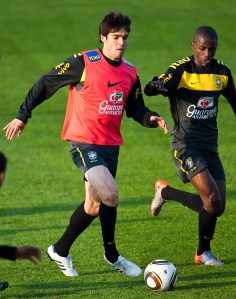 Prominent Soccer Jew and New Republic editor Franklin Foer will be blogging the World Cup for TNR this year, as he did in 2006.
Mr. Foer, author of How Soccer Explains the World, will be joined again by Serbian novelist and National Book Award finalist Aleksandar Hemon, among others.
From the release: Contributors to Goal Post also include Matt Weiland (The Thinking Fan's Guide to the World Cup), painter and writer Rabih Alameddine, sportswriter Stefan Fatsis, Talking Points Memo's Zachary Roth, Mexican blogger León Krauze, Spectator's Alex Massie, author Tom Vanderbilt, Colombian novelist Carolina Sanin, Luke Dempsey (A Supremely Bad Idea), The New Republic's Jesse Zwick and Peruvian writer Daniel Alarcón.
"I think that nerdy kids have a classic response to their sporting disasters as kids," Mr. Foer told the Observer's Lizzy Ratner in 2006. "What they can't master physically they try to master intellectually, and certainly that's the case with my soccer experience."