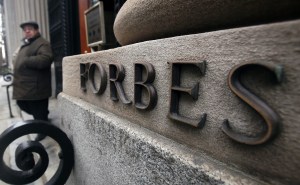 Less than a month after Forbes purchased the website True/Slant and brought its founder Lewis Dvorkin into the fold as chief product officer, the company has lost another top editor.
Paul Maidment, the chief editor of Forbes.com and an executive editor of the magazine, has resigned. Today will be his last day, according to Joe Pompeo.
"This is the right moment to make the break and take the plunge," he wrote in an email to the Forbes staff.
Earlier in his career, Mr. Maidment ran the launch of the Financial Times online.
Last month, Women's Wear Daily took note of over-saturation at the top of Forbes' masthead. In addition to two editors-in-chief, Maidment being one, the magazine has "four managing editors, seven executive editors and 11 department heads." All of them now report to Mr. Dvorkin.
Lucy Maher, an eighth executive editor, resigned in May to work for Hearst, according to WWD.