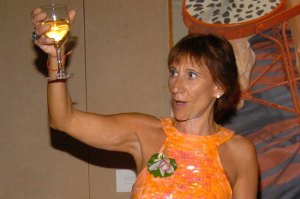 Literary scouts like to say that their grandmothers don't understand what they do for a living. Do they tie knots? Sell cookies? Orienteer, perhaps?
This is a good joke.
But "be prepared" is probably as apt a motto for literary scouts as any, because the job of the scout is to know everything. New York City-based scouts spent last week doing their best to know everything there was to know at Book Expo America, which took place at the Javitz Center, May 25 through May 27.
In order to know everything, scouts must talk to everyone. Through charm or maybe intimidation (and definitely persistence), they must get editors and agents to hand over unsold manuscripts that might become best sellers three-ish years into the future. Then the scouts must read everything.
"You have to do more reading than anyone else in publishing," says Agnes Krup, scouting director at Sanford J. Greenburger Associates. "Period."
Reading completed, scouts must then display impeccable judgment in speedily advising their publishing clients around the world about which American books to buy–before a rival scout gives similar advice to a rival publisher.
Some publishers want a scout who acts as a general consultant. Others want one who's essentially a surrogate editor in New York, closely involved with individual titles.
In either case, the job requires not just taste but knowledge of what will and will not work in other countries. Regional literature is notoriously hard to sell abroad–though Cormac McCarthy's West is no problem, and the occasional Southern standout (like Kathryn Stockett's The Help) can succeed. Much American nonfiction (like the political memoir) has no market abroad–but what's euphemistically called "mind-body-spirit" pop psychology does well in Brazil. And some literary fiction (think T.C. Boyle or Alice Munro) fares better overseas than it ever would on American best-seller lists.
Book Expo America has not traditionally been the most exciting place to scout. The focus is on booksellers rather than foreign rights, and the international business area is a fraction the size of its equivalent at the Frankfurt Book Fair. But after Eyjafjallajökull's volcanic ash muffled this spring's London Book Fair, BEA was, by all accounts, livelier than usual. Even if there weren't big deals going down–buzz, battles, money on the table, that kind of thing–more people made the trek to New York than otherwise would. Thus, more opportunity to socialize: a crucial part of knowing everything.
"It's very distinctly a business founded on relationships," says Devon Mazzone, a veteran scout who left Lauri Del Commune Enterprises this year to handle rights at Farrar, Strauss and Giroux. "And you have to earn those relationships."
There are the relationships with editors, with agents and (most delicately) with fellow scouts. So even while scouts do their best to learn everything they can from the people with the books, they have to be careful not to say the wrong thing to the wrong person. The professional stakes for indiscretion are high.
"The slightest thing could slip and you could lose out to a competitor," Mr. Mazzone said. "You could lose a client." Ms. Krup recalled rejecting a promising intern because the applicant mentioned her Greenburger job interview on her Facebook page. She had seemed like a sharp girl, but they didn't have a choice: The balance between socializing and secrecy is a tricky one, and if you can't keep quiet online, who knows what you'll say at a cocktail party?
"You're very friendly to your fellow scouts," says Bettina Schrewe, who runs her own agency–but it would be "plain stupid" to share any information.
Scouts have to be looking over their shoulders all the time, which creates a close-knit and intense little world. Sometimes people will try to introduce scouts to other scouts. This is foolish: They all know each other, and they probably can't chat anyway
"It's weird having a job where only 40 other people on earth do it," said Liz Gately, a scout at Barbara Tolley Associates.
Certain names loom large–Bettina Schrewe, Aram Fox, Todd Siegel, Mary Ann Thompson–but Maria Campbell is universally agreed to loom the largest.
"She's a presence. She's incredibly good at what she does. She's relentless," says Mr. Mazzone. She has "a reputation for how she runs her office," he says-"there's probably a culture of fear." Of course, he admits, this is all "mythology": He met her in person for the first time only the other night, over drinks.
Other morsels of Maria Campbell mythology: Won't reveal her age. Will make fearsome phone calls when clients don't follow her advice. Occasionally, at publishing conferences, when a band plays, will dance–to the astonished delight of scouting subordinates, left scrambling for cell phone cameras to capture the moment. (Rumors and amateur paparazzi: such are the hazards of being at the top of a profession devoted to gossip.)
On May 26 at BEA, Ms. Campbell wore a straw fedora and trench-coat-style khaki dress. She looked like a summertime spy, which seemed entirely appropriate.
A few weeks before the BEA, The Observer spoke to Ms. Campbell at I Trulli, a Gramercy Italian restaurant she favors.
Ms. Campbell's first language was Italian, and she began her career at the Italian publishing house Mondadori. She started scouting in the mid-1970s.
"There were people scouting before me," she acknowledged, but described her predecessors as tending to be expatriate Europeans who shared information in a friendly, informal capacity. She took an "American approach": She thought of scouting as an enterprise, and began steadily accumulating clients.
"Whenever I wanted to give myself a promotion," she said, "I took on another."
In the years since she got her start, she said that scouting has become more of a career; there's more of a professional structure in place. And now that publishing-inclined young people don't see the mobility or security that they once did in the big publishing houses, scouting looks increasingly appealing. Today her office includes nine people total, plus an intern or two.
"We have someone buying a book every day," she said.
Some scouts put the average burnout period at five to seven years. Mr. Mazzone was a scout for 11 years before accepting an offer earlier this year from Jonathan Galassi to handle rights at FSG.
Mr. Mazzone says he doesn't miss scouting yet–it's only been a few months. But there have still been sacrifices.
"I miss being in the know. You don't know as much," he said. "But to fix that you just talk to scouts."
mfischer@observer.com