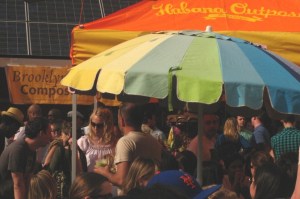 Minnesota may have outlawed so-called ladies nights, but at least one Brooklyn bar owner is embracing the policy. Habana Outpost, the hipster-loving, eco-friendly Cuban joint in Fort Greene, has in the past few weeks launched an endeavor casually known as "Operation Take Back Habana Outpost," a gender-specific cover charge policy that's confused some customers and apparently caused stirrings of outrage on Twitter.
Since Memorial Day weekend, the restaurant has charged men a redeemable $10 cover charge on Fridays and Saturdays that can be used towards food or drink. To some patrons, this may have seemed like a strange attempt by management to make the sustainable restaurant more of a nightclub, but general manager Darcy Lefleming said the purpose was precisely the opposite.
"We had a lot of underage guys — this was just a way to control the crowd," she said. "It felt more like a club."
Ms. Lefleming said the decision was a tough one, since the restaurant is known for its open spirit.
"It's important to maintain the integrity of the restaurant," said Ms. Lefleming, who is so devoted to Habana Outpost's normal open-door policies that when she married there, the celebration was open to the public.
Then teenage boys began accosting her, and the crowd grew more unruly.
""It was a bit too much of a meat market," she said.
Prior to the implementation of the temporary new policy, restaurant managers spoke with many of the regular customers, who agreed it was a good idea. "Nobody really complained to us directly. … I've seen a lot of things on Twitter."
Ms. Lefleming hopes to stop charging men next weekend, now that the troublemakers probably "found another place to harass women."
slevin@observer.com