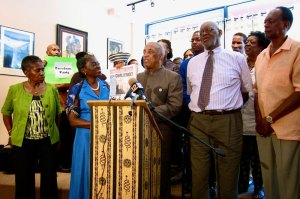 "We are honored to accept this challenge in the name and the spirit of El-Hajj Malik El-Shabazzname, Malcom X," City Councilman Charles Barron told a crowd of about 50 people at Sista's Place community center in Brooklyn on Thursday. "We accept this challenge in the name of Rosa Parks and Martin Luther King."
Mr. Barron was formally announcing his first run for governor and what he hoped would be the formation of a permanent political party, called the Freedom Party, devoted to the election of black politicians. Most of the attendees stood behind Mr. Barron on a stage facing the news cameras.
Mr. Barron berated the Democratic Party for running exclusively "white"—and some "very white"—candidates on this year's statewide slate and for, in his eyes, neglecting black and Latino voters in the state.
"Today we stand here saying it's time for us to be for us. It's time for us to be a self-determining people. The Democratic Party has taken us for granted. The Republican Party has ignored us," Mr. Barron said.
"What's this coronation of Andrew Cuomo? Why would black leadership in this state coronate him?" Mr. Barron asked. "He has done nothing for us."
"Nothing!" members on stage shouted.
"And Robert Duffy? Who is he?" Mr. Barron said, referencing the lieutenant governor pick that he had hoped would go to a minority candidate. "Where did he come from? Nobody knows no Robert Duffy. How can we coronate someone like that?"
Mr. Barron ended his speech chanting the words of Marcus Garvey in unison with the crowd behind him: "Up, you mighty race. Up, you mighty race. You can accomplish what you will."
After his speech, Mr. Barron lingered in the community center for nearly an hour, taking photos with members and pumping his fist in his iconic and defiant pose.
"Today is a historic moment for us," he told The Observer. "Malcom X called for an independent party. Marcus Garvey called for an independent party, and the time is ripe for that right now."
"Most of the canidates like Michael Bloomberg will not be honest in saying that he is the candidate of rich, white men. He won't say that," Mr. Barron said. "I'll say that I love black people and white people. I'm going to serve all the people, I'm really going to look out for black people who have been wronged for so long."
This, he suggested as Sista's Place cleared out, was the ground zero of a long-awaited revolution. In six months Mr. Barron said he hoped to have his name on the ballot and the requisite 50,000 votes to give his party a permanent presence in future elections.
"Ten years down the road I can see an extremely large voter base. I can see us winning some local seats, some City Council seats," he said.