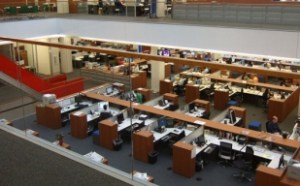 The New York Times (the paper of the refresh button) likes to mix things up, and the paper's web design is no exception.
Later this summer, The Times is launching a new public beta website to test out new features on self-selecting readers before incorporating them into nytimes.com, Nat Ives reports.
The test site, which will be caled "Beta620" in reference to the paper's address on Eighth Avenue, will be used to try out new features like those boxes that only recently began zooming out from the side of article pages.
That feature was the result of a "tech challenge," according to Denise Warren, a senior vice president at The Times. That's what the paper calls internal contests to create new features.
Just this weekend Ben Zimmer's "On Language" column seized on the idea of iterating and web design. "It's the way of the Web these days: everything is iterating," he wrote.
Interating right before your eyes!