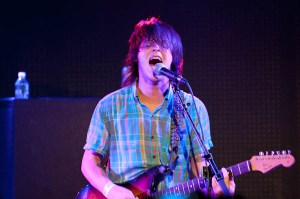 This past weekend a 23-year-old stoner from San Diego made a play for king of New York. Nathan Williams, whose band Wavves is known for sugary, petulant punk songs about being bored and smoking weed, opened the L Magazine's Northside Festival on Thursday night with a sold-out show at the Knitting Factory in Williamsburg. It was a perfectly timed appearance: Wavves' impressive new album had just leaked the previous week, and Mr. Williams' face was on the cover of The Fader's just-published summer issue, in which the youngster is quoted as saying that he wants his new LP, titled King of the Beach, to be his Nevermind.
The record's opening number, also called "King of the Beach," is a triumphant declaration of intent with an instantly familiar melody and a transcendent bridge. It's a song about how Wavves, which is what people call Mr. Williams when they address him, is on top of his game, and how all the other bands out there trying to win lo-fi rock stardom should stay in their lanes and let him through. The chorus is: "You're never gonna stop me."
It was a bold statement for Wavves to make in the opening weeks of summer, particularly at Northside Festival, overrun as it was by bands from the East Coast who appeal to the same fans as he does but who are nothing if not his spiritual opposites. These are bands like Real Estate and their affiliates on the Underwater Peoples label—bands who hail mostly from upper middle class towns in New Jersey, who went to college and play polite indie rock in the vein of Galaxie 500 and Yo La Tengo, and who have nothing of Wavves' snarl about them even as they mine the same beach imagery and work in the same lo-fi aesthetic.
Given how good the songs on Wavves' new album are—they are really good—the "King of the Beach" thing might not be an empty threat. It's also a loaded one: over the course of the year or so since the release of Wavves' breakout album, he has gotten attention for some unpleasant things, chief among them having an onstage meltdown last summer at the Primavera Festival that forced him to apologize and cop to drug and alcohol problems in an open letter to fans. Not to be cynical about it, but the flame-out—understood at the time as a side effect of "too much, too soon" internet fame—set him up nicely for a comeback, which is exactly what Thursday night at the Knitting Factory would have felt like to anyone who knew the back story.
Though musically inspired by Green Day and other California pop punk bands from the '90s, Mr. Williams acts unmistakably like a rapper. Young and pretty and confident, Wavves is indie rock's J-Kwon—the precocious one-hit wonder who went around TV talk shows calling himself "the teen president" after "Tipsy" got on the radio. He's kind of like Drake, too, for his bursts of confidence come amid an acute self-loathing and fame-related angst that sometimes make him sound ungrateful and bitchy. "My old friends hate me / but I don't give a shit / I fly high lately," he sings on "Green Eyes," one of the best songs on King of the Beach. "I hate my music, it all sounds the same," he sniffs a few songs later. "But to take on the world would be something."
THOUGH IT HAS BEEN REMARKED upon a fair amount at this point, the sheer number of young bands who incorporate beach imagery into their sound and their image remains astonishing. To name only the relatively famous ones, there is Best Coast, Beach House, Surfer Blood, Coasting, Beach Fossils, Real Estate, and Ducktails. The main weird thing about the phenomenon is that pretty much everyone who plays in these bands is pale and skinny, and often come from places—the suburbs of New Jersey, for example—where the beach bum lifestyle is not really an option. How to explain this? According to a guy from Halifax I talked to outside of the Knitting Factory, Paul Hammond, whose band Cold Warps just put out a tape called Endless Bummer, it doesn't necessarily have to do with nostalgia for days spent tanning and swimming and lying around in actual sand, but a resurgence in '60s surf music, like the Beach Boys. "I mean, the beach is fun, but as a pale skinny dude, I would go to the beach and get made fun of," Mr. Hammond said. "Whether or not you were actually a dude who hung out at the beach or not, you're like, 'Yeah, that stuff was kind of neat.'"
And so when Mr. Williams from Wavves says he's "king of the beach," it's important to remember that what he's really saying is that he's "king of the beach trend currently sweeping indie rock." Remember also that it is a disputed crown—that there are other bands who want it. And while so far it has not bred anything so overtly antagonistic as the East Coast–West Coast rivalry in '90s gangster rap—last night's Wavves show with Ducktails in Montclair is all the evidence you need—it is nevertheless instructive if you're trying to grasp the significance of Mr. Williams riding into Brooklyn this past weekend and calling himself number one.
Wavves went on a little before 11 p.m,. after an excellent set by Cleveland's Cloud Nothings. Mr. Williams, appearing without the baseball cap that has become his trademark in glamour shots, was accompanied by his relatively new rhythm section, a pair of grimy, older-looking guys who played with the careening Memphis punk Jay Reatard prior to his sudden death earlier this year. Both of them—Stephen Pope on bass and Billy Hayes on drums—looked like punishing metal dudes, much more substantial and potentially threatening than Mr. Williams, whose Justin Bieber haircut makes him look more baby-faced teen idol than gutter punk.
"What's up John Norris, how you doing?" said Mr. Hayes from behind the drum kit as the band tuned up, having apparently spotted the former MTV News personality. The lummox's shtick was contempt for the journalists and hipsters who love Wavves and he yelled out jokes at their expense throughout the set that were reminiscent of nothing so much as Diesel's despicable and depressing "Be Stupid" ad campaign. "Hey, if anybody's writing anything out there, I can't read," he said at one point, drawing howls. "Pretty good think piece, right? I made it up." Earlier in the set, before the song "So Bored," he took another shot at all the pencil necks in the crowd, first telling Mr. Williams sarcastically that he liked him better when he was a "naive college grad," and then interrupting himself to say, "Just kidding. He didn't graduate from college. Me neither. We all quitted. 'Cause we dumb!" Before the encore, he looked out at the audience and said, "I wish I was skinny and cool."
Everyone cheered for this stuff, including a lot of skinny, cool people who work in the media. It reminded me of sitting in the press section at the Republican National Convention in 2008 listening to Sarah Palin give that speech where she blasted "all those reporters and commentators" and promised she wasn't coming to Washington to "seek their good opinion." All the journalists around me at the Xcel Center in St. Paul were just typing it all down and writing notes to themselves, not betraying any awareness that they were the ones being targeted. On Thursday night, at least two critics—Ryan Dombal from Pitchfork and Jon Caramanica from The New York Times, who would praise the show in the next day's paper—avoided the mosh pit and the crowd surfers by standing in the back.
After the show, some people made their way to a dance party at a DIY space in Bushwick called Shea Stadium, but the cops broke it up after some guy made a bunch of noise with his red Firebird and some other guy shattered a police cruiser's rear window by throwing a beer bottle through it. People were bummed out and those who were allowed to go home did. At one point, a kid who looked about 15 years old got a text message, and then said to his friend, "Yo, Wavves says there's a new spot."
Despite the afterparty fiasco—which earned New York's indie kids a public scolding from super-promoter Todd P—Wavves was clearly pleased with the Knitting Factory show. "THX 2 EVERY1 WHO CAME I HAVENT SEEN THAT MANY PPL STAGE DIVE SINCE MXPX IN 1999!" he wrote on his Twitter around 1 p.m. the next day, presumably not long after waking up. That same afternoon, Wavves' record label, Fat Possum, perhaps realizing that a quarter of the crowd knew every word to every new song that was played, decided to push the release date of King of the Beach up by more than a month. Between that and the swiftness with which the Knitting Factory set appeared in mp3 form on NYCtaper.com, Wavves-mania in Brooklyn felt like it was reaching a fever pitch.
WHETHER THE ANTI-INTELLECTUAL RHETORIC that Wavves employed onstage on Thursday was an affectation calculated to project an image of recession-era no-collar punk rock is unclear. In interviews Mr. Williams does come off as an accredited slacker who, until musical success earned him his own apartment in Los Angeles, spent his days at his parent's house playing video games and smoking a ton of pot. So it's absolutely possible Mr. Williams really is or was that kind of loser. Plenty of people are.
The more distressing thing about Wavves' popularity here is that it means New Yorkers are buying into the idea that being that kind of loser is a good thing to be. Because is it, really? What's so great about sitting around doing nothing all the time? And what's so bad about college, anyway?
Not everyone in indie rock thinks it's super lame, at least. If the Palin-esque bluster of Wavves was the hottest ticket in town on the first night of the Northside Festival, the college rock of Real Estate at the Williamsburg Hall of Music was it on the second. Their set, played before a full house, started after midnight, and word rang out some time before that it was so packed that festival organizers weren't even letting in people who had all-access badges.
The following night, on Saturday, the Real Estate guys were at Shea Stadium for a showcase featuring a bunch of their friends from high school, including Andrew Cedermark, a soft-spoken UVA grad who used to be in the punk band Titus Andronicus; Big Troubles, accompanied by a couple of guys currently enrolled at Sarah Lawrence; and Ducktails, the surfy solo project of Real Estate guitarist Matt Mondanile, who went to Hampshire College. The show was curated, as the kids say, by the young Greenpoint blogger Mike "Chocolate Bobka" McGregor, a fan first and foremost who posts a lot of mp3s that others in this small scene follow with dedication. The show felt like a family affair, and attracted a contingent of close-knit Jersey guys, including Patrick Stickles from Titus Andronicus, who have known one another and played in bands together since high school. "Your album has circulated in the Glen Rock library six times since they got it," said the drummer Alex Tretiak to his old pal Mr. Stickles while the two of them were getting some air on the balcony. Later, during his set, Mr. Cedermark brought Mr. Stickles and Martin Courtney, lead singer of Real Estate, up to the stage for a song called "Your Dream Is Killing Me."
Outside on the balcony, a gaggle of musicians affiliated with Real Estate and the Underwater Peoples label mingled and smoked cigarettes, all of them hoping to avoid a repeat of Thursday night's incident. Sam Franklin, whose main project is Fluffy Lumbers but who was playing on Saturday with Big Troubles and Ducktails, talked to his bandmate and classmate at Sarah Lawrence Luka Usmiani, about why he finds Wavves kind of distasteful even if some of his songs are really well-written.
"There's not much thought put into it, and it's about a very, very specialized set of interests: weed, hanging out, and … I dunno," said Mr. Franklin, before asking Mr. Usmiani to weigh in.
"I feel like if someone intelligent was doing it, it would be a satire," Mr. Usmiani said. "I just don't buy it. … If he was seriously about these things he wouldn't be doing this—he would just be surfing and eating pizza all day, he wouldn't be singing about it."
A 21-year-old named Gio Betteo who plays in the San Francisco band Young Prisms (also into "summer themes") told me I wasn't super off-base to think that maybe Real Estate and the other Underwater Peoples bands are, in certain meaningful ways, the polar opposite of Wavves.
"You can see the difference," Mr. Betteo said. "One's like, 'I'm so punk and I dropped out of high school or whatever,' and the other one's like, 'I graduated college but this is still what I want to do.'"
Wavves "is definitely more punk," he added, before pausing for a second. "Or he comes off as more punk. That's PR, man: Punk Rock!"
Nearby, a recent Swarthmore grad named Anna Zalokostas, who used to book shows for a lot of the bands on the evening's bill when she was in college, told war stories about all the mockery she and her friends would be subjected to when acts like Jay Reatard came to play at her school. "I don't blame them," she said. "I mean, I went to a fancy school, and I wish it had done me some good. It's hard to feel annoyed at people making fun of these fancy schools because you're like, 'Hm, maybe you're right—I just went through this whole thing and I don't have a job. Clearly you might be onto something!"
She said she'd been listening to a lot of Wavves lately, and finding comfort in his lyrics about aimlessness and boredom despite the fact that she is precisely the kind of smartypants hipster that Mr. Hayes, that punchy drummer, had targeted a few nights earlier. "It's mostly because I just graduated and I have no money, no job, and don't have a car anymore," she said. "I just moved here, and I don't really have anything to do. I don't know if I identify with him—I don't know if I'd use that strong of a word or that cheesy of a word—but I'm kind of like, 'Yeah man, I hear you! I feel that right now!'"
Her friend and classmate Robin Lipp seemed to feel similarly.
"The culture of anti-intellectualism in the country bugs me, but when it's individual concerts and individual people, it doesn't bug me so much," he said. "People are always a little bit sensitive. You know, you make decisions, and once you make them you can't go back. So you can imagine a life for yourself where you didn't go to college, and you did something maybe a little bit more freewheeling, and you think, 'Why did I pay all this money? Why did I have this education when I could have just taught myself, and been in a band?'"
Late on Sunday night, after the show in Montclair, Mr. Williams from Wavves took to his Twitter to wrap up the weekend: "Watching 'predator' b4 I fall asleep at 4:20," he wrote. "Also thinking spaghetti and street balls would be a good name for the next queen latifah movie."
All told, wars have been fought over less significant fault lines. Happy summertime, bloggers.