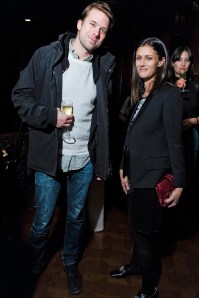 Arthur Sulzberger Jr. just stunned the city.
Sally Singer, the features and fashion news editor at Vogue, the ear to Anna Wintour and regarded as one of the biggest talents in fashion publishing, is the new editor of T Magazine.
Ever since Stefano Tonchi left T for W, the search has been a long one, and it was expected the hire would come from within. It's a hugely significiant hire, and one has to believe that The Times wants to put WSJ. and The Journal's forthcoming weekend lifestyle revamp to shame.
Mr. Murdoch, here's the memo:
SALLY SINGER IS SELECTED EDITOR OF T MAGAZINE

NEW YORK, June 8, 2010 – Sally Singer has been selected as the new editor of T: The New York Times Style Magazine, Bill Keller, executive editor of The New York Times, announced today. Since its debut in 2003, T has been at the forefront of luxury magazines, exploring the worlds of fashion, beauty, design, living and travel. Ms. Singer will take over the helm on July 5.

"Sally has the combination of aesthetic sense and intellectual curiosity suited to a style magazine that wears the name of The New York Times," said Mr. Keller. "We were looking for someone with the imagination and taste to envision the next generation of this extraordinary franchise, and the experience to make it happen."

Ms. Singer has been at Vogue since 1999, where she oversaw the fashion news and features departments. Earlier she was fashion director at New York Magazine, style director of Elle, and the commissioning editor for features at British Vogue.

She has edited at the London Review of Books, Verso/New Left Review, and Farrar Straus and Giroux. She has also written for the Atlantic Monthly, the Economist, the Guardian and the Times Literary Supplement, among other publications.

One of the style world's most successful magazine launches, T is now published 15 times a year. It translates style in a way that is beautiful, insightful and relevant and features the work of some of the world's most illustrious photographers, including Robert Maxwell, Raymond Meier and Jean Baptiste-Mondino.

T has an audience that is as sophisticated as its content. It offers advertisers a lush, brand-appropriate luxury editorial environment with readers who are world travelers, discriminating shoppers and design aficionados. Its global presence has expanded as it has become a leading online style destination and is now distributed in the International Herald Tribune in Europe and the Middle East.

The T Web site is updated daily and offers original Web-only content, including news and views by some of the most trusted voices in the industry, as well as exclusive videos like the popular "Screen Test" series of celebrity interviews and "The Moment" blog on NYTimes.com/TMagazine.