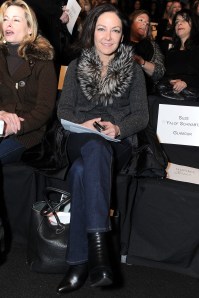 Paige Rense is done! And for the first time since 1975, there will be a new editor at Architectural Digest.
Condé Nast spokeswoman Maurie Perl said the search is only just beginning now. But who will Si Newhouse and Tom Wallace speak to about the job?
The magazine has been struggling, and they need someone to breathe some new life into it.
Here is The Observer's short list of top candidates for the job:
Paul Goldberger
Pros: He knows architecture! He's the architecture critic for The New Yorker; he used to be the dean of Parsons; and he's got a Pulitzer Prize. Above all, we hear he's very close to Victoria Newhouse, Si's wife, who is an architectural historian and very connected to the community. Mrs. Newhouse's vote is probably going to count for a lot in this case.
Cons: There's a question how much he knows about selling a magazine, and how much he knows about decorating. He's wonky, yes, but mostly for architecture.
Margaret Russell
Pros: She has a built a very nice little magazine at Elle Decor. She's young and fresh. Her magazine is very product-focused and very advertiser-friendly. She's definitely one of the hottest talents in shelter today.
Cons: Elle Decor is a very New York–L.A. magazine. The interiors inside Elle Decor are hip and the magazine is very fashiony, but it's not nearly broad enough for a magazine like AD. Ms. Russell would have to prove she can create a new magazine.
Ilse Crawford
Pros: She's a designer and was the founding editor of British Elle Decor. She has an extremely good reputation and is considered a design guru across the pond.
Cons: She's relatively unknown here, and any potential Europeoan import that Mr. Newhouse and Mr. Wallace consider will have to learn about interiors in the U.S.—the learning curve can be steep.
Deborah Needleman
Pros: As the former editor of the now nonexistent Domino, she developed a fun and approachable shelter magazine. It appealed to a very big group people, and it was deeply mourned after it died.
Cons: She's cooking up a project with Huffington Post co-founder Ken Lerer now, and who knows if she wants to return to 4 Times Square? Also, insiders tell us that she doesn't have the best connections within the design community.
Dark Horses
Pilar Viladas, design editor at The Times Magazine: She's very well respected in the architecture community, but a little less well known within the design community, said one shelter magazine source.
Wendy Goodman, interior design editor at New York: She used to work at House & Garden, and Adam Moss scooped her up after Si Newhouse shut down that title in 2007. She knows people, too.
Suzanne Slesin: A former editor at House & Garden as well, along with being a Home editor at The Times, she's a star design writer.