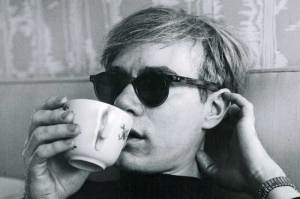 Books are, literally, art. A handful of events slated for this month and next celebrate the connection between the artist and the writer. –W.M. Akers
The Autobiography and Sex Life of Andy Warhol
June 23, 6 p.m.
New York Public Library
11 West 40th Street
Out of print since its first publication, in 1971, Village Voice co-founder John Wilcock's The Autobiography and Sex Life of Andy Warhol has, with typical Factory snark, a completely inaccurate title. A collection of interviews with Warhol's friends and collaborators, it is not at all an autobiography. Even worse, it contains not an ounce of juicy gossip about the famously asexual titular character. Oh well. Disappointment aside, it remains one of the most illuminating explorations of the silver-haired misfit, and its reissue-filled out with dozens of unpublished photos-is a good thing. On June 23, Mr. Wilcock and some of his interview subjects will be at the Public Library, and hopefully their (free-to-the-public) conversation will turn salacious.
How Classics and Cartoons Collide
July 15, 7 p.m.
Museum of Comic and Cartoon Art
594 Broadway
$5
Forget Pride and Prejudice and Zombies; the best recent riff on the western canon is R. Sikoryak's Masterpiece Comics, a gorgeous, full-color volume of short cartoons based on classic lit. Rendering Dorian Gray as Little Nemo and Camus' stranger as a grouchy Superman, the book contains on every page a quality dig at the conventions of golden age comics and the pretensions of English majors. The Museum of Comic and Cartoon Art is currently exhibiting original drawings from the book, and next month the artist will be in house to discuss them.
Strand Tote Design Contest Reception
June 22, 6:30 p.m. to 8 p.m.
School of Visual Arts
Westside Gallery
133/141 West 21st Street
Although well known for its labyrinthine stacks and more labyrinthine employees, the Strand looms above the city's other used bookstores, a dominance made plain by the ubiquitousness of its iconic tote bags. To celebrate that presence, the bookstore joined with the School of Visual Arts to sponsor a design contest for a new tote logo, and will announce the winner at a reception later this month. The finalists are lovely examples of current graphic design, and besides a cash prize, the winner will be rewarded with a spot on the arm of every literary-minded hipster in the Village.
Summer Reading
June 14 to Sept. 3
Michael Werner Gallery
4 East 77th Street
There's something unfair about books produced in a small run. Whereas a rare Dickens banks on chance and the caprices of its owners to survive 150 years, an artist's handmade books are rare as soon as they leave his press. To us, it smacks of cheating. The Michael Werner gallery has just opened an exhibition of those unfair books: rare editions hand-crafted by prominent contemporary artists, which are less famous, but much more expensive, than any mint-condition Oliver Twist. The show includes work by Georg Baselitz, Per Kirkeby, Marcel Broodthaers and other artists with amusing names.
Bloomsday on Broadway
June 16, 7 p.m.
Peter Norton Symphony Space
2537 Broadway
$25
Now in its 29th year, Bloomsday on Broadway is the preeminent celebration of Ulysses, a rather old book that used to be infamous for being famously filthy, but is now best known for being hard to read. In celebration of the rotund Leopold Bloom, and the gifted, mustachioed Irishman who dreamed him up, the marvelously odd language of the novel will be performed by actors including Stephen Colbert and Tony Roberts. Like the book, the evening ends with Molly's monologue, of which the faint of heart should be wary, as it is mildly bawdy and nearly three hours long.
Book Arts Lounge: Tunnel Book
July 9, 6 p.m. to 9 p.m.
The Center for Book Arts
28 West 27th Street
$10 suggested donation
A perfect combination of paper dolls and pop-up books, the Victorian tunnel book is an adorable relic from an era that pushed the adorable to its limit. A series of overlapping paper screens that, viewed from the front, form a 3-D image, tunnel books are as intricate as Avatar and much less tedious. At this workshop, comic-book artist Emily Blair will instruct guests on making their own creations.
BOOK FAIR
July 27, 12 p.m. to 5 p.m.
The Bronx Museum of the Arts
1040 Grand Concourse
Attempting to make up for what they may see as the borough's bookstore deficit, the Bronx Museum hosts an annual book fair outside of their stately home on the Grand Concourse. Speakers range from poets to publishers to the editorial staff of Bomb Magazine, but as important is the block party that surrounds them, which is like any other street fair, crowded with musicians and vendors, but with, y'know, books. And because the Bronx is a family borough, many of the stalls will sell children's books, and some local comic book artists will lead a kids' drawing workshop.
Mapping New York's Shoreline
Through June 26
New York Public Library
11 West 40th Street
As the city holds its breath in anticipation of the M.T.A.'s new, slightly simplified subway map, the Public Library wraps up a free exhibition of maps drawn so long ago that the No. 1 train would have seemed speedy. Atlases, books and journals document the measurements taken by Henry Hudson's first expedition, in 1609, and broadsheets from the period represent the first advertising for tourism in the Big Apple, which was at the time very small.