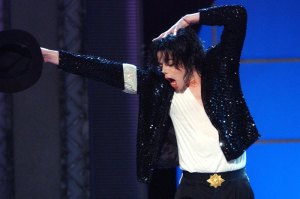 Do you remember where you were when you heard that Michael Jackson died?
That's a retro question nowadays-the kind of thing that is earnestly said about John Lennon or Elvis Presley. For this generation, obviously, the answer is: You were at your computer and read it on TMZ. It's hard to believe that a year has already passed since the megastar was pronounced dead on June 25, 2009, apparently from an overdose of the anesthesia he was being administered to feign sleep as he rehearsed in Los Angeles for a series of comeback concerts portentously titled "This is It."
And by "hard to believe a year has already passed," what I mean is it actually feels considerably longer. So much has happened since Jackson's untimely death at age 50. He's had a hit movie with a big-selling soundtrack; sales of his past recordings have skyrocketed; and every move or utterance by his children, parents and siblings is followed by the celebrity press and blogosphere as though they were the Kennedys in the days of Camelot. Later this year, an original album of unreleased Jackson songs will be released, and a Cirque du Soleil show in Vegas is in the works.
The conventional line now is that Jackson is bigger in death than he was in life-and even bigger than Elvis Presley, the musical "King" whose daughter, let's recall, the "King of Pop" was married to for a brief time. (And, yes, at some point there will be a Neverland permanent attraction to rival Mr. Presley's Graceland, though the betting is it will be in Las Vegas rather than at the existing Neverland Ranch near Santa Barbara.) Setting aside the tragic fact that Jackson is not around to see it, his renewed mega-stardom would no doubt have pleased him deeply-after the success of his record-setting Thriller album 27 years ago, Jackson sought only to top himself, an ambition that was clearly as unhealthy as it was unrealistic.
Transformed physically and behaviorally into the tabloid caricature of Wacko Jacko, the singer spent roughly the last decade of his life in the creative and personal wilderness (though, by many accounts, he was privately anchored by his devotion to his three children). But one thing Jackson never lost was a devout if not rabid fan base, particularly outside of the U.S. He was finally compelled to go back to work via a series of concerts in London because he was teetering on financial ruin; despite shrewd investments in song catalogs back in the 1980s, he had already had to hand over control of Neverland to a financial firm because he could not cover the mortgage on the property. Mounting payments on even bigger loans-some $435 million in all-jeopardized his ownership of his chief assets: his own music catalog as well as his half-interest in the Sony/ATV music catalog that includes more than 200 Beatles tunes. All the while, Jackson lived far beyond his means, running annual deficits of more than $10 million. Officially, Jackson's position was that he was coming back to perform one last time (hence "This is It") so that he could show his kids what dad was like in his heyday, before the allegations of molestation that dogged him for years, and that he was ultimately found not guilty of.
Indeed, even before things went awry for him, Jackson professed strongly that he did not want to continue performing. Rather, he wanted to be a kind of Walt Disney, making theme parks and video games and, above all, movies. A decent chunk of his fortune was frittered away on projects that never came to fruition, as well as questionable advice from an ever-changing coterie of business advisers who briefly held his ear. With the concert rehearsal film This Is It-shot for an entirely different purpose and cobbled together in just a few weeks-Jackson (sort of) achieved his wish of celluloid immortality. Meanwhile, the millions of movie tickets and DVDs and CDs and licensing deals struck by his canny executors in the last year have swiftly moved Jackson's balance sheet out of the dire situation that led him to need to do the comeback tour in the first place. Without Jackson around to spend his newfound gains, something with the contours of a real business is being built. Michael is gone, but he's back.
rsiklos@observer.com
Richard Siklos is writing a book on Michael Jackson for Crown Publishing.