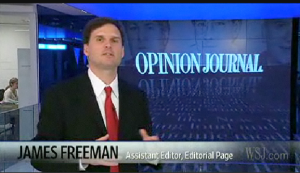 The Journal has added a third daily online video broadcast, Opinion Journal Live. The segment, which will be posted each weekday around noon, will be anchored by members of The Journal's editorial board, who will opine on the day's news with help from contributors.
The first installment of the new series features editorial page editor Paul Gigot, who is no stranger to the camera. Mr. Gigot hosts Journal Editorial Report on Fox News.
Opinon Journal Live joins the paper's two other daily video series, The News Hub and Digits, which focuses on technology news.
The Times has its own daily noontime video, the Timescast, which features different editors discussing developing news and snippets from the paper's Page One meeting.
NEW YORK, June 2, 2010 (GLOBE NEWSWIRE) — The Wall Street Journal continues to expand its live video offerings with the launch of Opinion Journal Live –– a daily online broadcast, providing commentary on the major business, political and cultural news of the day, presented by The Wall Street Journal's editorial board and its contributors. Opinion Journal Live will air live on WSJ.com each weekday at 12:00 noon ET from New York and will be available on demand following the broadcasts. It is the third daily, live series to launch from The Wall Street Journal Digital Network since September 2009.

Opinion Journal Live is hosted by James Freeman, assistant editor of The Wall Street Journal's editorial page, and editorial board member Jason Riley. The program features interviews with newsmakers and op-ed contributors, as well as commentary on the news of the day from the editorial writers and columnists, including deputy editorial page editor Daniel Henninger, Americas columnist Mary Anastasia O'Grady, economics writer Stephen Moore, and Potomac Watch columnist Kimberley Strassel from Washington, D.C. The program will also draw upon the Journal's global reach by featuring interviews with editorial page writers stationed in Hong Kong and London. An occasional Political Diary segment will focus on the most interesting races in the 2010 congressional and gubernatorial elections. 

"Our readers come to the Journal opinion pages for news and commentary shaped by our long-time principles of free people and free markets," said Paul Gigot, editor of The Wall Street Journal editorial page. "With Opinion Journal Live we will enhance our daily Web offerings with commentary and interviews on breaking events that readers can't see anywhere else."

The Wall Street Journal Digital Network has previously launched two daily online news broadcasts — The News Hub, airing twice daily on top news of the day; and Digits, featuring expert reporting and analysis on technology — all presented by reporters and editors from The Wall Street Journal, Barron's, Dow Jones Newswires, MarketWatch.com and AllThingsD.com. The network also features several live breaking news updates throughout each day.