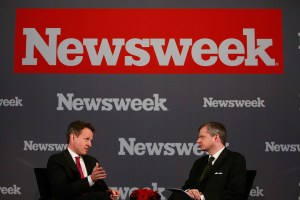 The Washington Post Co. has batted down Avenue Capital Group's bid on Newsweek over concerns about some of the company's other investments, according to the Wall Street Journal and Memo Pad. Even though the private equity shop's bid was said to be one of the largest, The Post got itchy over Avenue Capital's 20 percent stake in American Media, which publishes the National Enquirer, Star, Men's Fitness and Shape.
The Post has known this all along, but sources told Memo Pad that something went wrong during deal-making — perhaps something to do with Avenue Capital's plans to use American Media's ad-sales team and back office, based in Boca Raton, Fla., to support Newsweek. Even though sharing a back office wouldn't obviously affect Newsweek's editorial operations (and the magazine's cumbersome stand-alone back office is one of the things standing in the way of profitablilty), The Post would rather not see the Newsweek brand aligned with the National Enquirer or Star so closely. Newsweek is too smart, too up-market to share a back office with those titles!
In an earlier stage of bidding, The Washington Post Co. turned away bids from a company in China and, later, Newsmax Media and hedge-funder libertarian Thane Ritchie because they did not seem like appropriate "stewards for the magazine." Avenue Capital will supposedly try to re-enter the bidding process and play down its association with American Media.
Earlier: Cancel That Move, Newsweek Waits Around in Hudson Street Offices