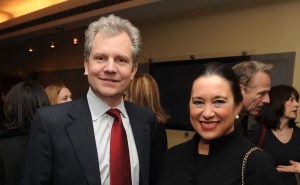 The New York Times Company is "well-positioned to thrive," according to CEO Janet Robinson, who announced the company's second-quarter earnings this morning. The best news is that there were no major catastrophes this quarter. Flat may still be the new up.

Revenue from print advertising continued to decline in the second quarter, but circulation and digital advertising picked up some of the slack. Ms. Robinson said that she did not expect circulation revenues to continue to grow, attributing recent gains to a newsstand price hike at The Globe and The Times.

Revenue from print ads across the company was down 6 percent in the second quarter, a steady continuation of the first quarter's 6.1 percent drop. Revenue from digital ads — up 21 percent — now represents 26 percent of the company's ad revenue (compared with 22 percent last year).
The mini success story at the company continues to be About.com, which saw a 23.6 percent increase in advertising revenue, bringing in $32 million. The group only costs $18.3 million to run.

The lukewarm earnings report also comes with a major caveat: costs will be "more challenging in the second half of the year, particularly in the third quarter." In the months ahead, the company faces increased prices for paper, the reinstatement of salary cuts implemented last year and costs associated with launching a paywall at the beginning of next year.