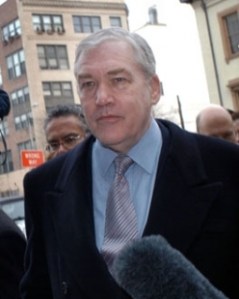 After serving 30 months of his 78-month sentence in a Florida Prison for honest services fraud, Conrad Black was granted bail Monday by the U.S. Court of Appeals for the Seventh Circuit, according to the Financial Post. The decision follows a Supreme Court ruling to limit the use of "honest services" law last month that set off talk that Lord Black would not have to serve out the rest of his sentence
Lord Black was also behind bars for obstruction of justice after he removed boxes of files from his office that government investigators were searching for, but he has served enough time already for those charges. He will likely face travel restrictions after his release and have to post bail in the seven figures.
Lord Black was sentenced to 78 months in December 2007 after stealing nearly $6 million from shareholders of his media holding company Hollinger, Inc. Hollinger's empire included the Chicago Sun-Times, London's Daily Telegraph and Israel's Jerusalem Post. Lord Black was also an investor in The New York Sun.