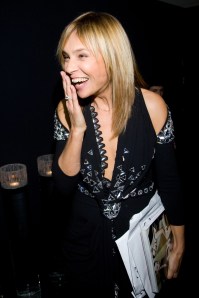 After 13 years at the healm of Russian Vogue, Aliona Doletskaya submitted her resignation to Jonathan Newhouse earlier this week, according to Memo Pad. Mr. Newhouse has already named a replacement, Viktoria Davydova.
Ms. Davydova worked under Ms. Doletskaya at Vogue as a beauty editor until 2002, when she left to work on the launch of the Russian editions of both Glamour and Tatler.
Since 2008, we have heard that Ms. Doletskaya is next in line for Anna Wintour's job at the American edition. (There have been similar rumors about French Vogue editor Carine Roitfeld.) "Fashion is a world in which everything is gorgeous, stunning, caramel on top of caramel, and cream on top of that," Mr. Doletskaya told The New York Times in 2008 . "But in reality you have to fire people, to say things that are not particularly nice. There is a contrast between what you do socially and what happens behind closed doors." Given a few recent changes this summer at Vogue — chief among them, the departure of Sally Singer — we have to wonder if something involving Ms. Doletskaya is underway.