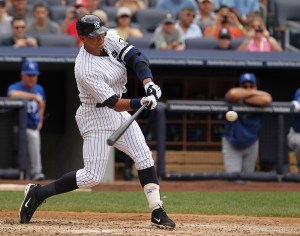 Commercial real state, apparently, is best understood in terms of baseball. CB Richard Ellis, the city's biggest commercial brokerage, once again beat out the competition in the struggle for Manhattan's top office leasing deals, according to the annual mid-year list published in Crain's with data from CoStar (it came out today). It's a three-peat for big-leaguer CBRE, which topped both the year-end and mid-year lists in 2009 and in 2008.
Why is CBRE so dominant? Matt Van Buren, CBRE's executive managing director, enlightened us.
"I don't think the secret is all that mysterious, I really don't," he said. "It all comes down to, A, Do you have better talent? We think we do. And, B, Do you keep your eye on the ball? And keeping your eye on the ball means eliminating all distractions and giving clients really good results."
Last year, Jimmy Kuhn, president of rival brokerage Newmark Knight Frank, compared CBRE to the Yankees and Cushman & Wakefield, CBRE's archrival, to the Boston Red Sox. America's favorite pastime is also commercial real estate's favorite analogy.
To borrow a phrase, CBRE's batting average this year was impressive. The brokerage claimed the top four positions in the top-50 list, representing the landlord, the tenant or both. It also had a hand in eight of the top 10 leasing deals, and 23 of the top 50. By comparison, Cushman snagged 13 of the top 50 deals, Newmark Knight Frank got nine, and Jones Lang LaSalle and Studley each took seven.
CBRE's 23 top deals totaled about 3.55 million square feet. It's a dramatic improvement over 2009's dismal mid-year total of 1.75 million square feet, but it's not quite back up to the pre-Lehman 2008 mid-year figure of 4.9 million. Cushman's 13 leasing deals this year totaled 1.55 million square feet, better than last year's mid-year figure of 892,284, but, likewise, not as impressive as 2008's mid-year total of 1.9 million.
To New York City commercial brokerages: Pretend you're playing baseball, and you might have a shot at toppling the CBRE kingdom (but probably not).
"We do have a very powerful lineup of brokers in New York that are unusually resourceful," Mr. Van Buren said.