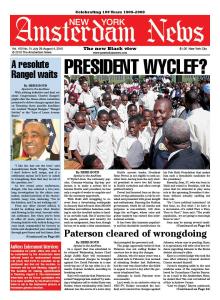 The Amsterdam News, the city's century old African-American newspaper, is just out with a story today entitled, "Surveying New York's Political Landscape," which runs through the various statewide races this year.
The most interesting part is midway down, when writers Cyril Josh Barker and Stephon Johnson get to the attorney general's race, and seem to editorialize a little bit.
Of Eric Schneiderman, they write,
Eric Schneiderman looks to be the favorite for attorney general, especially with New York City residents. He's had a big hand in passing hate crime legislation, the Women's Health and Wellness Act and increasing the minimum wage in Albany. His advocacy for eliminating prison gerrymandering practices in New York State has been chronicled in the AmNews before.
And when it comes to his chief rival, Nassau DA Kathleen Rice, the paper is a little less kind.
In Nassau, Rice has a reputation for being a particularly aggressive prosecutor along with her opposition to reform of the draconian Rockefeller Drug Laws. Rice's name went national earlier this year when she prosecuted Scott Braun, the manager of teen-pop singer Justin Bieber, for not tweeting that an appearance by Bieber at a local Long Island mall had been canceled.

Some have begun to question Rice's commitment to the democratic process after the New York Times reported that Rice did not vote for 18 years once she was eligible to vote, casting her first ballot in 2002. She also initially registered as a Republican in 1984 before running for district attorney as a Democrat in 2005.

With Rice being Cuomo's favorite, it's understandable that many of New York's citizens of color remain skeptical of her, with her sketchy voting record, opposition to reforming the Rockefeller Drug Laws, and zeal to prosecute.
dfreedlander@observer.com