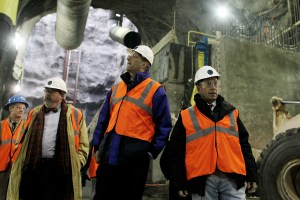 "[The apartment building] is superbly situated one block from Central Park, B/C/1/2/3 trains and cross-town bus."
This is, appropriately, the first line of the Shares of New York listing for the three-bedroom, Upper West Side condo recently purchased by M.T.A. chairman and CEO Jay Walder and wife, Susan Walder-Cummings, for $1.599 million from an unidentitfied buyer shielded by an LLC. According to the Web site Streeteasy, the listing agent is Dan Adsit of the mysterious boutique brokerage Shares of New York, but when reached by telephone he swiftly passed the call on to a nameless female associate who briskly told The Observer, "Well, I'm actually the one who had that listing. Upon further pressing, she snapped, "You know it's a private transaction and I think Mr. Walder would like to keep it that way."
May I ask your name so the listing agent is accurately attributed?
"You know it's purposeless. We don't want anyone's name mentioned."
But after historic fare-increase proposals Wednesday, it's hard to open a local newspaper without seeing mention of Mr. Walder's name, who as M.T.A. chairman, is in the unfortunate position of implementing fare hikes such as a 16 percent increase for monthly subway and bus passes and a 9 percent increase on suburban trains in an effort to narrow an $800 million budget deficit.
If Mr. Walder secured a mortgage for the purchase of his new residence, we assume that the bank found him to be more credit-worthy than the cash-strapped M.T.A. And, besides, he's got the money: On Wednesday, in fact, he shot down suggestions that his $350,000 salary take a cut; and then circuitously told salary-minded reporters, "The position of the chairman of the M.T.A. has been compensated historically in the manner in which I'm being compensated. I think that's the way it will remain."
Before he took the chairmanship here nine months ago, the 51-year-old Queens native spent close to a decade in London in a top post at the tube. His wife, Susan Cummings-Walder, whose Facebook wall indicates she is currently fighting spiders in France, and the couple's children have since moved back with him and have been living in the Tribeca Towers.
In addition to its proximity to the B/C/1/2 and 3 trains, the handsomely renovated three-bedroom boasts a "tremendous natural light," a master suite with double sinks, and a walk-in California Closet as well as a kitchen with cork flooring, maple base cabinetry and frosted glass upper cabinets. Wood floors throughout the apartment have been stained with a "custom chocolate blend."