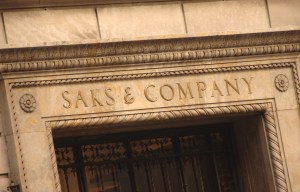 This week the Daily Transom reported a string of fashion-related thefts on the Upper East Side, one of which occured at Saks Fifth Avenue. On July 11, two young woman entered the department store and attempted to walk out with four Herve Leger dresses (stuffed into a shopping bag) without paying for them.
Now, two weeks later, it seems the store was struck again by a fashionable thief. According to the New York Post, Poertieiea Sturdivant, 49, entered the store around 5:45 pm on Saturday, placed two designer dresses and two pairs of shoes into a shopping bag and made her out of the store. A security guard stopped Ms. Sturdivant and asked for a receipt, which she could not provide.
According to DA Cyrus Vance Jr., she has been charged with grand larceny and criminal possession of stolen property. The designer of the dresses was not specified.