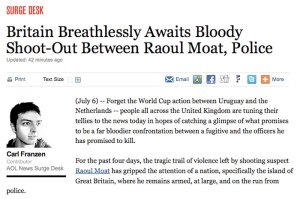 Aol's been bullish on its content farming project known as Seed, which aims to use search engine data to churn out quantity over quality articles a la Demand Media, but today they bumped into one of the problems with this strategy. In short, they reported an Onion-like spoof as fact.
The story of Raoul Moat, a Northern England man who allegedly shot three people and is still at large, has gripped the U.K. and is ripe for search engine traffic. Brooklyn-based Aol News writer Carl Franzen was a bit too eager to pound out a story on Moat, however, and ended up citing an article from a British satire site as his primary source. The site, known as The News Grind, joked that England was eagerly awaiting a bloody climax to the Moat manhunt, and that was the angle taken in the serious Aol story.
In defense of Franzen, we're sure he was on deadline and the jokes on The News Grind are underwhelming to the point where you might not notice them. But look at this absurd pull quote, given serious treatment in the Aol story:
"I can scarcely wait for the climax," confirmed Elsie White, 77, as she raced back to her house after picking up some toffees and copies of today's paper from a local newsagent featuring the blood-soaked face of a police officer allegedly shot by Moat. "We haven't had a live event like this to enjoy for quite some time and there's only old 'Doctors' episodes on at this time of day."

Families have been collecting children from schools and nurseries throughout the day so they could watch together, as expectations reached fever pitch that a violent firearms confrontation was imminent. Over 800 schools have closed across the country as a result.
The Onion it's not. Though it's also, unfortunately, not true.