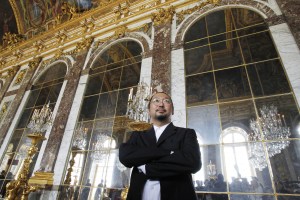 The Vancouver Gallery moves to avoid marijuana fumes, a Chelsea gallery owner and a media magnate are sued for swindling artists, and Russian curators are indicted for a controversial exhibition. This week in art news: art worlders getting into trouble.
1. Versailles to Hold Annual Contemporary Exhibitions
Japanese artist Takashi Murakami will be the next artist to showcase his wares at Versailles. The museum's director announced that the exhibition will become an annual tradition, featuring alternating French and foreign contemporary artists.

Our take: We're not sure what's more shocking: Manga in the Hall of Mirrors or French people poking a little fun at their own kitschiness. (Our pick for the next artist? Yayoi Kusama.)
[New York Times]
2. Controversial Beaver Sculpture Reinstated
A four-foot tall beaver sculpture was removed from public view in Bemidji, Minnesota in response to concern that the beaver's abdomen featured an image of the female anatomy. The decision incited heated debate over censorship in public art, and "Gaea" the Beaver was ultimately reinstated by the city council.
Our take: The combination of a beaver and vaginal imagery is so inventive, if makes us wonder if Georgia O'Keefe was just thinking inside the box.
[The Bemidji Pioneer]
3. VAG Moves to Avoid Marijuana Fumes
The Vancouver Art Gallery (affectionately abbreviated "VAG") cited the stench of marijuana smoke in the art gallery's vault as a reason behind its proposed move. Cue Edward Winkelman's competition for the best punny headline.
Our take: The phrase "high art" takes on a whole new meaning.
[The Globe and Mail]
4. Russia Convicts Curators for Controversial Exhibition
Two curators who organized the exhibition "Forbidden Art" in Russia were found guilty and fined $6,5000 for "inciting hatred," but escaped jail sentences. The 2007 exhibition featured controversial religious images such as a print of Jesus with the head of Mickey Mouse.
Our take: In targeting curators, the suit discourages art professionals from organizing future exhibitions in the country-a serious blow to the fledgling Russian contemporary art scene.
[AFP]
5. Owner of Chelsea Gallery Sued for Swindling Artists
Filmmaker Jonas Mekas and designer Paula Scher are suing Harry Stendhal, owner of Chelsea's Stendhal Gallery, for refusing them a fair cut of sales in order to fund his own extravagant lifestyle. Mekas alleges that Stendhal gave several of his works to restaurateur Guiseppe Cipriani to pay off a $90,000 tab.
Our take: Not paying your employees is the new black.
[NYP]
6. Russian Billionaire Fights Faberge for Name
Russian Billionaire Alexander Ivanov is looking to expand his collection of Faberge eggs and his museum, located in Baden Baden, Germany. But the expansion isn't coming easy: Ivanov's Faberge Museum is locked in a legal battle with Faberge, Inc. over the use of its name.
Our take: You'd think Faberge would be a little friendlier to a guy who paid $17.7 million for a single Faberge egg in 2007. What ever happened to "the customer is always right"?
[Bloomberg]
7. Avedon Foundation to Sell at Christie's
The Richard Avedon Foundation will action off a selection of the famed photographer's prints at Christie's in November. The sale, estimated to bring in $6 million, will feature 65 lots including the largest extant print of the famous "Domiva with Elephants."
Our take: Looks like Sotheby's isn't the only one nabbing high-profile photography shows.
[Art Market Views]
8. Britain's Gentry Deaccessions
Many royal Brits, including Princess Diana's brother, have been flooding summer auctions with heirlooms and artworks in an effort to stave off the economic crisis. Notable lots include an over $30 million Turner painting and an over $10 million Peter Paul Rubens work.
Our take: This is what happens when a harsh economic climate collides with a record-setting auction season. No one ever said the art market wasn't complicated.
[The Guardian]

9. Art Comes to the iPad
Caravaggio paves the way for artist-related iPad apps. The multimedia company Scala Group International has launched a $1.99 "CaravaggioMania" app, which features over 300,000 high-resolution images of artworks and an interactive video tour of Rome's Galleria Borghese.
Our take: Caravaggio may be in vogue since the discovery of his remains, but we'll wait for iPad fanatic David Hockney's inevitable app.
[Artinfo]
10. Louise Blouin Doesn't Pay Anyone
A bevy of former employees are suing Louise Blouin, the Brit behind Art + Auction and artinfo.com, and her company Louis Blouin Media. Plaintiffs include writers, a Manhattan design firm, and a placement agency that found a butler for Blouin's Southampton home. All claim Blouin has not paid them for their work.
Our take: Which reflects more poorly on the economy: that Blouin didn't have enough money to pay her employees or that people still lined up to work for her despite her reputation?
[NYP]