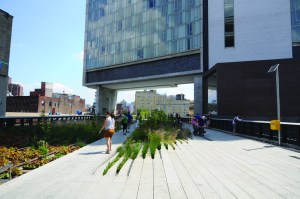 East End Adventure
On Saturday, Ann Madonia Antiques in Southampton, 36 Jobs Lane, will celebrate the opening of the first American exhibition of Parisian artist Guy de Gontaut. The party, beginning at 5:30, is hosted by Mr. de Gontaut's brother, the well-connected nightclub and party promoter Marc de Gontaut Biron. Worth crashing? Well, the announcement does brag that Monsieur de Gontaut Biron is known for his "international, star-quality" events. This would seem to imply Champagne.
New Parks Regulations Slap Street Artists
It's just gotten a little harder for artists to sell art in New York.
Sweeping new regulations went into effect last week that restrict the placement and number of stands that artists can set up in and around city parks to sell their artwork. The rules, so far little noticed by the public, specifically single out vendors who offer art, photography, reading material and sculpture-and artists are bristling at the constraints. City officials believe the regulations are a necessary response to park overcrowding.
Painters Robert Lederman and Jack Nesbitt sought an injunction against the new regulations in the Southern District Court of New York, but their motion was denied July 16, and the rules kicked in July 19. The artists' attorney, Julie Marie Milner, argued that the sale of artwork is an "expressive activity" protected by the First Amendment. (The same distinction earned artists the right to sell their wares without a permit in 2001; commercial vendors are required to get one and are restricted to certain areas.) The court ruled in favor of the New York City Department of Parks & Recreation, stating that the restrictions leave ample channels for personal expression and are in the public interest.
"The parks were not built to provide an unlimited marketplace for people to sell stuff," said Parks Commissioner Adrian Benepe, adding that people should be able to enjoy the park "without having to walk through a daily flea market." According to the Department, the number of art vendors in areas such as Central Park, Union Square Park and the High Line has tripled since the 2001 ruling.
In the last week, the restrictions have caused some chaos at Union Square Park, especially when the park's sprinklers turned on, drenching one vendor's table in the newly assigned space. Artists are confined to 18 preset spots ringing the park, which are available on a first-come, first-serve basis. More than 50 people arrived on Saturday morning to secure a spot, according to park vendors. "People come in from outer boroughs, they have to spend money to get here," said photographer Donna Lee Michas, who has been selling her art in the park since 2007. "They don't want to come and then find out they can't be here."
The increased number of park patrol officers stationed to enforce the rules appears to have scared away customers. Susan Isaacs, an art vendor in Union Square since 1999, said sales are down 60 percent since the rules came into effect. Artists also complain that the assigned table spaces push them out to the very edge of the sidewalk, vulnerable to passing traffic. (During interviews with the artists, truck mirrors whizzed too close by our heads.)
"It's like saying, there's Godzilla, King Kong, and then there's Mickey Mouse, and who's obstructing the park?" said Robert Lederman, who's made a living as a street artist since 1962. He added he's been arrested 43 times on charges ranging from trespassing to disorderly conduct, though the charges have always been dismissed. Mr. Lederman, the plaintiff in the 2010 and successful 2001 cases and the founder of A.R.T.I.S.T. (Artists' Response to Illegal State Tactics), said he is appealing the court's July 16 decision.
Eat, Paint, Chelsea
Chelsea has kicked up the gallery wars a notch with a potent weapon: Food. Twenty-five galleries are sponsoring a walk this Thursday, July 29, from 5 p.m. to 8 p.m. (http://www.artwalkchelsea.com/). It's just the latest of many in what's been a fast-growing trend of coordinated gallery events: Dealers are trying to create the same urgency of an art fair or auction without the cost. Since March, coalitions of Asian art galleries, Madison Avenue galleries and Lower East Side galleries have sponsored such walks. (Full disclosure: The Observer sponsored a packed Artlog.com tour of the LES galleries last Thursday.)
But Chelsea's onto something: Their partners include Three Tarts Bakery, which will offer 15 percent off homemade lemonade; artist hangout B.E.S. restaurant and Le Gamin Café, which will serve crepes at ClampArt. For the more intellectual, P.P.O.W. gallery, at 511 West 25th Street, is sponsoring a "Young Curators" meet-and-greet at 5 p.m.