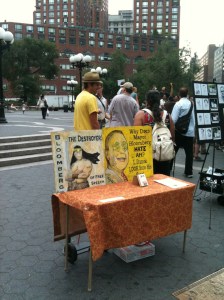 Snapped this photo of a rally on the way into the office today down at Union Square. Artists who sell their work in the city's public parks are suing the Bloomberg administration over a proposal to limit the number of vendors in the parks. The artists say the plan is a violation of their Constitutional rights.
The city has said that the proliferation of artists in city parks–they count the number at close to 300–creates a pedestrian hazard and favored limiting the number of artists to 81. After a backlash, the city agreed to lift the cap to 140, and said that vending space would be awarded on a first come, first serve basis.
A lawsuit on the matter is currently before the Federal District Court in Manhattan.