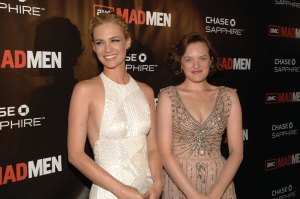 On Sunday night, a large crowd gathered in the city's densest zone of advertising to participate in a mass advertisement for a show about advertising. In a case of meta-product placement Don Draper could only dream about, Times Square was turned into one big ad for Mad Men.
"Mad Men is a sort of an ode to the creative energy and the city itself and what was happening here in the '60s in the advertising business and the things that caused a lot of the modern ideas and concepts in advertising, so what better place to do it than the middle of Times Square, with all these ads surrounding us," said host Blake Hayes, speaking into a vintage-style stage microphone.
There were swag bags, contests, even actors like Mr. Hayes bedecked in '60s wardrobe to create the mood.
Then there was the crowd of "Maddicts," a recently spawned maniac breed of fan with a lineage dating back to at least the '60s themselves.
"Like bordering on Trekkie," Carolyn Zezima, a self-professed Maddict, told the Transom. "Hopefully more style."
Ms. Zezima, 48, was eagerly awaiting the premiere of the fourth season of the television show. As Comic-Con was coming to a close across the country and fans with Spock ears and phasers were spilling into the streets of San Diego, Times Square was overrun with fanatics in vintage dresses and old suits, wielding cigarette holders, some with real cigarettes in them.
Mad Men stars January Jones and Elisabeth Moss, who made real-life cameos at the event, told the Transom they had never heard of the term Maddict.
"None of us would have thought that something like on this grand a scale would ever happen with the show, and to be in Times Square with thousands of people dressed up like us, it's very bizarre," Ms. Jones told the Transom. "It's very bizarre. In the most amazing way."
Though Ms. Zezima was not going to enter the costume contest, she had gone all out in her pursuit of early '60s flair, in a green satiny dress and her mother's jewelry, which included a bracelet that flipped up to become a watch and a ring with the same feature. She pointed out her elephant pin. "I am not a Republican," she said. Her mother was, though-"Around the Nelson Rockefeller years," she remarked. "So I guess I'm kind of supposed to be a Rockefeller Republican here in my little outfit," she said. "But I'm not."
Ms. Zezima did enter and win a prize in the trivia contest, answering questions like "What is Don's wife's nickname?" (Birdie) and "What is Joan's husband's job?" (physician).
A man standing behind the Transom, clad otherwise than in period attire, said, "Wow, these people are crazy."
A friend of Ms. Zezima's, Karen Heyman, did enter the costume contest. Ms. Heyman, who was wearing a simple black dress, pearls and a pink patterned headband, landed firmly on the absurdist end of the spectrum of entries. She was supposed to be Rachel Menken, Don Draper's mistress from the first season, but she carried a blond doll in a plastic bag, a representation of the Drapers' daughter, Sally, whose mother doesn't care that she plays with dry-cleaning bags. Her prop prompted one of the three judges to say, "This is very scary."
Eric Mueller was one of two winners of the costume contest. The Transom noticed the sleekly dressed man before the contest even began-he was sipping on what looked to be a martini. Unfortunately, it was only club soda with an olive, though the olive was fixed on a "real 1960s swizzle stick," Mr. Mueller, 47, explained.
Nole Marin, one of the judges of the costume contest, who has also judged America's Next Top Model, told the Transom that it was the shoes that gave people away.
"They really messed up the shoes. The girls really had great outfits, great dresses, great suits, hair and makeup, but when it came down to the shoes, they were wearing Aldo." He said the brand name with disdain.
Some fans went all out for authenticity. Rachel Jensen, a quiet 28-year-old wearing cat-eye glasses, was one. "This is all vintage except the underwear," she told the Transom of her yellow ensemble.
"The shoes," her friend Mark Davis pointed out.
"Oh, yeah. The shoes aren't vintage. But everything else. Even the bra."
Ms. Jones and Ms. Moss were brought up onstage right before the screening of the episode. Mr. Hayes pressed the women on what would happen this season. The show's cast and crew are notorious for being tight-lipped on plot points. Ms. Jones, in a beaded, flapper-style dress, joked, "Here's what happens. We all die." There were a couple of awkward giggles from the audience. She continued, "This is the series finale." Mr. Hayes didn't acknowledge her comment.
When the show finally started, the silence of anticipation fell on the square. Gasps came when the crowd learned that Don Draper was into being slapped in bed. Giggles erupted when Sally Draper spit out her food at Thanksgiving dinner. As Peggy and Pete planned to plant a story in the Daily News about two women fighting over a ham for an account they were working on, a PR lady sitting next to the Transom leaned back to someone behind us and said, "It's a great PR stunt." The feedback loop was complete.