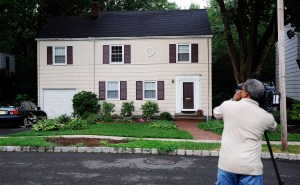 Last week, right before Cynthia and Richard Murphy, also known as the Montclair spies, were returned to Russia, they had to surrender their home at 31 Marquette Road.
According to the New York Daily News, if the FBI decides to put the wood-shingled colonial up for auction, it would be valued at $530,800. Inside, the couple's clothing, books, and DVDs, among other things, are still scattered over the house's two floors.
"The crowds at these auctions can almost double [regular auctions]," one prominent auction house owner told the Daily News. "I guess they want to see what those people in actuality owned, and how they lived."
He added: "We use all that hype, especially in a case like this, and have a preview the day before which is kind of infectious, it breeds bidders the next day. You get the regular crowd coming along, then those that were associated with these people like coworkers and neighbors … and a lot of curiosity seekers."
The home belonging to Vicky Palaez and Juan Lazaro, the spies who lived in Yonkers, may also go on the block.