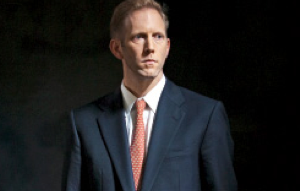 In this week's BusinessWeek profile of Henry Blodget, we get a look inside his Business Insider.
There are no bellowing editors, no reporters with phones up to their ears. In fact, reporters on each "vertical" (the site is divided into several silos focused on technology and finance) share one phone, which would seem to discourage classic gumshoe reporting, and several work at two computers. Much of the content is produced by young reporters, many of whom have only ever worked at blogs, as well as modestly paid interns. The most prolific contributor of all is Blodget himself, who not only begins posting when he rises at 5 a.m. but also once had a habit of handing out crisp $20 bills to TBI reporters who delivered scoops.
Crisp twenties! This is why more bankers should start media companies. We wonder how often bonus time comes around.
Nick Denton appears in the profile, saying that Mr. Blodget "has the determination of someone digging themselves out of disgrace." Mr. Denton also imagines a scenario where "Jezebel becomes Lifetime, HuffPo becomes MSNBC, and Henry becomes CNBC," the place where people go to watch somebody scream about money.