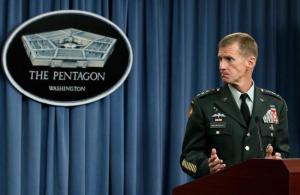 Michael Hastings will be writing a book based on his explosive "Runaway General" Rolling Stone profile of Stanley McChrystal. Geoff Shandler at Little, Brown bought the proposal, in a deal negotiated by Scott Moyers of the Wylie Agency.
From Little, Brown's release:
Little, Brown Publisher Michael Pietsch says, "In his brilliant article Michael Hastings has already given us the clearest of insights into the disaster of America's war in Afghanistan. He is a writer of extraordinary talent and his book will take us deeper and further into the war and its major architects, at a time when we need that clarity desperately."
Hasting's previous book, I Lost My Love in Baghdad, recounted the death of his aid worker girlfriend in Iraq.