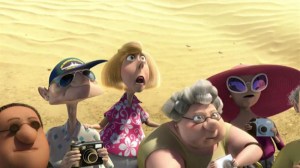 Wondering how to make a dent in the summer box office? Be animated, in 3D or — preferably — both. Here's a breakdown of the top five.
1. Despicable Me: $60.1 million (new)
Break up Universal! After nearly two years of disasters (Funny People, Land of the Lost, Robin Hood, The Wolfman, MacGruber), the fledgling studio finally scored a massive hit with the help of Steve Carell, some pill-shaped yellow minions and, of course, 3D. The $60 million opening for Despicable Me is Pixar-ian in nature and welcomes a new franchise to the cultural landscape. In the short term, with no other animated movies hitting theaters this summer — and what should be strong word of mouth, since it's adorable — it doesn't feel like that much of a leap to say that Despicable Me could equal the run of How to Train Your Dragon from earlier this year.
2. The Twilight Saga: Eclipse: $33.4 million ($237 million total)
The second weekend drop for New Moon was a hilariously bad 70 percent, so in that regard Eclipse is doing better, since it only fell 48 percent. Still the better hold aside, these films are running neck and neck through twelve days. As it turns out, the same people who saw New Moon are seeing Eclipse and they're doing it roughly on the schedule. Expect final grosses to be anywhere between $290 and $300 domestically. And so it goes until Breaking Dawn.
3. Predators: $25.3 million (new)
Fun fact about the top-3 at the box office this weekend: None of them had budgets over $100 million. This is the summer of frugality! Fox and Robert Rodriguez made Predators on the cheap (a reported budget of roughly $40 million) and that means this will pay off despite the fact that it opened to slightly less than perceived flop, The A-Team. Do we live in a world where Adrien Brody has a franchise? Apparently, yes.
4. Toy Story 3: $22 million ($340 million total)
Watch those records tumble. This weekend, Toy Story 3 passed Finding Nemo to become the biggest Pixar film ever — meaning it's the second biggest animated film ever, behind only Shrek 2. It also topped Alice in Wonderland to become the highest grossing film, thus far, in 2010. That it did all that on a weekend when another 3D animated movie opened huge is even more impressive. Toy Story 3 dropped just 27 percent and is about $100 million away from passing Shrek 2. How high can it go?
5. The Last Airbender: $17.1 million ($100.2 million total)
The predictably bad decline in weekend two aside — The Last Airbender tumbled 57 percent — did anyone actually think this would hit $100 million even 10 days ago? M. Night Shyamalan is many things, but unemployable isn't one of them. The only problem now: Will he follow through on the threat of a Last Airbender sequel?