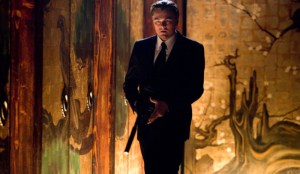 As it turns out, people do still see live-action movies in theaters! Here's a breakdown of the top five.
1. Inception: $60.4 million (new)
For an original film that runs for nearly two-and-a-half hours and doesn't lend itself to selling lunchboxes or toys, a $60 million opening is anything but a disappointment. To wit: Inception is the fifth biggest opener of the summer and marks the best start for any film starring Leonardo DiCaprio in his career. And yet…where does Inception go from here? If it performs like a regular blockbuster, you're looking at a film that will top out at around $150 million — or less than what The Dark Knight grossed during its opening weekend. Warner Bros. is probably happy today, but maybe not that happy.
2. Despicable Me: $32.7 million ($118.3 million total)
The Summer of Kids rolls on. Down just 42 percent, Despicable Me is already well on its way to cracking $200 million and should be a cash cow for Universal for the remainder of the year. Can you imagine how many minion stocking stuffers they're going to sell come December?
3. The Sorcerer's Apprenctice: $17.3 million ($24.4 million)
Bombs away! There was a time when Jerry Bruckheimer meant box office glory. Then 2010 happened. The numbers for The Sorcerer's Apprentice are so bad that they make Prince of Persia: Sands of Time look good. To give you an idea about how low this opening number is: The Sorcerer's Apprentice grossed less in its initial frame than The Bounty Hunter did.
4. The Twilight Saga: Eclipse: $13.5 million ($264.9 million total)
Eclipse is running about $7 million ahead of New Moon thus far after 19 days in release, meaning the threequel has a very good chance of cracking into the $300 million club. Couple that with bonkers international numbers and the Mayan-predicted 2012 apocalypse might be happening sooner than you thought.
5. Toy Story 3: $11.7 million ($362.7 million total)
Toy Story 3 continues to rack up big numbers — but that it trails Shrek 2 by $80 million means the Pixar smash will likely have to settle for being labeled as the second biggest animated film of all-time and the biggest grosser of 2010. My, how will Buzz and Woody sleep at night?