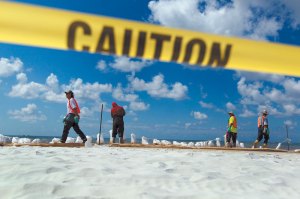 Who's the bigger scofflaw-BP or Yassir Raouli?
You've heard of BP, but perhaps not of Mr. Raouli or his Bistro food truck, which operates daily from 11 in the morning until 7 at night at 15th Street and Fifth Avenue, northwest corner.
The city has always had a hard time figuring out how to license and track food vendors. Lots of people, lots of vehicles, little space. So the New York City Department of Consumer Affairs issues permits for food trucks and the Department of Health then separately issues licenses-to 3,000 people-to sell food on our public streets; about 300 are food trucks, both gourmet and low-end.
Now comes Councilwoman Jessica Lappin, representing the Upper East Side, introducing a bill that would de-license all food trucks that rack up three or more parking violations a year, which nearly all of them do. "It's ridiculous for one person to own a parking spot for $200 a year and $3 in parking fees," said Lappin. "This is about breaking the law."
Switch gears now to BP. The federal government has similarly had a hard time figuring out how to regulate big oil companies-and how to punish recidivist firms. If a company has frequently violated regulations or laws, how do you punish or deter them since, unlike real people such as Mr. Raouli, these firms can't be thrown in jail? In a Supreme Court decision earlier this year, corporations were given a similar right of free speech as you and me, but not the same obligations under criminal law. Indeed, Washington can't de-license any national or multinational firms since they are chartered by individual states, which often rely on the substantial chartering fees that result (with Delaware being the worst example).
BP is theoretically regulated by the (now renamed) Minerals Management Service in Washington, the agency, according to its inspector general, that was literally in bed with the industry it was supposed to be regulating. But favors sought and given too often took the form of deep drilling permits written by the firms without any serious review. Think foxes and chicken coops, or, as political scientists call it, "regulatory capture."
Specifically, BP assured the MMS that the risk of an oil spill in the gulf was near zero, but in any event, the firm had blow-out preventers that could capture any oil. We now know that blow-out preventers have only a 48 percent success rate (alas, the Deepwater Horizon Platform's blow-out preventer not being among the successes). Then the company was shown to have engaged in serial law-breaking and lying, from its deadly Texas City explosion in 2005 and the 2006 Prudhoe Bay pipeline spill to the underestimation the volume of the Gulf spill by 95 percent.
While the company has now been forced to pay $20 billion into a restitution fund-with tort cases, regulatory fines, civil RICO cases and perhaps indictments to come-no one's talking about de-licensing them or replacing most of the executives with new ones. Where is the individual accountability for destroying an ecosystem and thousands of jobs, as well as the deaths of 11 rig workers? Or as law professor Christopher Stone once wrote of corporate law enforcement generally, "Those who call the shots don't bear the risks."
Which brings us back to Ms. Lappin and Mr. Raouli. She's 36, smart, ambitious, well schooled and the daughter of a prominent family. He's 27, Moroccan and came to the U.S. in 2002 with $1,200 in this pocket, knowing no one. He now owns a food truck making and selling sandwiches, has six employees and is precisely the kind of new arrival our city and country want to attract and help succeed.
She says her constituents are upset with pollution, congestion and idling vehicles. Except that food trucks don't idle, they feed the meter as the price of existence. A three-strikes-and-you're-out rule would effectively put them out of business.
So what did Mr. Raouli think when he first heard about Ms. Lappin's bill? "I was angry, shocked and scared because this is my livelihood." So he did the American thing: He contacted other owners and organized. Dozens of people turned up for a June 16 council hearing across the street from City Hall. It was a richly diverse group, with food-truck owners from Japan, China, Australia. They were Christian and Jewish, white, black and Latino. And their street names were just as diverse: Schnitzel & Things, Waffles & Dinges, Frites & Meats, and The Big Gay Ice Cream Truck. They each testified for three minutes, delivered a petition with 5,000 signatures, issued pink "citizens parking tickets" to Ms. Lappin and launched a Facebook page called "Jessica Lappin, why are you singling out food trucks?"
If the issue is idling, why not a bill outlawing FedEx and UPS, which in the last fiscal year together received 200,000 tickets and paid $27 million in fines to the city.
Mayor Bloomberg has come out against the bill, an aide saying that it was "too punitive." Ms. Lappin and her co-sponsor, Councilwoman Karen Koslowitz, haven't said if they're going to push for it after the summer. And most critically, Speaker Christine Quinn-who could likely gather the votes from her Democratic caucus to override any veto if she decided to help her colleagues-has not yet taken a position on the proposal.
I take away two conclusions from all of this. Ideally, the federal government, under the Interstate Commerce Clause, should remove from state governments the power to license national and multinational companies and provide instead for a system to revoke the charters of firms that have violated the law as often as BP. Let's call it the "regulatory bankruptcy," equivalent of Chapter 11. Just as Washington seizes bad banks and the city seizes bad schools and then restructures them to get rid of the poor performing personnel.
More immediately (and realistically), Speaker Quinn could recall the title of her talk last month at the Crowne Plaza, "Free Money: How to Win Contests, Grants and Incentives for Small Business." May I suggest at least one way that she could help small businesses in the city …
Mark Green, the former NYC Public Advocate, is the creator and host of a new nationally syndicated radio show, Both Sides Now with Huffington & Matalin.